Tuesday, September 5th, 2017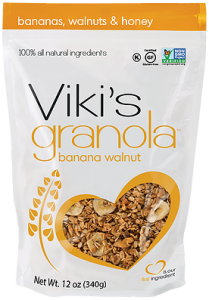 Now that summer is over and the Fall schedule is in full-swing, breakfast time has become the time to make sure that everyone is fueled up and ready to tackle the day ahead. An easy way to accomplish this? Viki's Granola!
Viki's has been one of my favorite gluten-free granola for a long, long time. I love that Viki's Granola was founded by a woman, Viki Gutsko, who has committed herself to make the finest quality gluten-free granola. It I no wonder why Viki's Granola is one of the fastest growing granola brands in the US.
I love that Viki's Granola is not only gluten-free, but also dairy free, naturally sweetened, no preservatives or sodium (Yes! NO sodium!)
The Viki's Granola flavors are awesome too: Original, Blueberry Almond, Apple Cinnamon, Maple Cranberry, and my favorite, Banana Walnut.
And as well as enjoying Viki's as a whole grain and high energy breakfast, you can enjoy Viki's in many of the yummy recipes shared on the Viki's website, including my favorite the Granola Banana Pops and the Baked Granola Apple.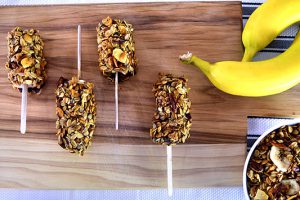 I love this granola so much that I picked up a couple of bags to share with two winners of this Win-It-Wednesday blog post.
One (1) winner will be randomly selected to win a bag from the entries received before Tuesday, September 12, 2017 at 11:59 PM EST, and one (1) more winner will be randomly selected to win from the entries received between Wednesday, September 13 and Tuesday, September 19, 2017 at 11:59PM. SO – make sure you enter two times to win!
How can you win?
Easy!
Reply to this blog and tell us what flavor of Viki's Gluten-Free Granola looks the best to you. Is it the Blueberry Almond, the Apple Cinnamon? Or my favorite, the Banana Walnut?
Good luck, fuel up every morning, and, as always …
Be Free!