Gluten-Free Crackling Chocolate Crackers: Made with Glutino Table Crackers & Kinnikinnick Graham Crumbs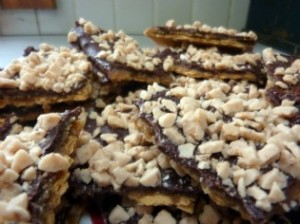 Whoever said that gluten-free crackers are boring and bland, needs to try this sweet decadent dessert using Glutino Gluten-Free Table Crackers.
As of now, gluten free crackers  have been used for only cheese, dips, and spreads – but now they are making a debut into desserts! Welcome deliciousness!
While I was pining and ogling over gluten-FULL cookies recipes found in a magazine, I decided to attempt making one of these recipes with a gluten-free twist.
The result? Our very own Gluten-Free Crackling Chocolate Crackers – a no-bake recipe (perfect when your oven is packed with other baked goods), that is a mix of sweetness and saltiness, and loved by both the gluten-free and non-gluten free folks.  They are simple to make and made with products from two of our Friday Favorite gluten-free brands: Glutino & Kinnikinnick.
For the crispy, nutty topping we sprinkled the tops with Heath Bits o' Brickle Toffee Bits (we called Hershey's and they confirmed this item is indeed gluten-free), but you could always sprinkle the tops with crushed Glutino crackers too.
These Gluten-Free Crackling Chocolate Crackers are also great for gifting … we've been bundling them up in tins and have been gifting all week!
Enjoy!

Gluten-Free Crackling Chocolate Crackers
The beauty of this recipe is that it is a no-bake dessert, that is great for gifting. If a nut-allergy is a concern, omit the toffee topping and use crushed gluten-free pretzels instead.
One 4.4-ounce package of Glutino Gluten-Free Table Crackers (Check label for allergens)
1 cup of Kinnikinnick Graham Crumbs (Check label for allergens)
1 cup of dark brown sugar, firmly packed
1 stick of butter, plus enough to lightly grease the cookie sheets
1/3 cup of light cream
3 teaspoons vanilla
2 cups dark chocolate chips
1 ½ tablespoon shortening or butter
1 8-ounce package of Hershey's Heath Bits o' Brittle Toffee Bits (check label for allergens)
Place the Glutino Gluten-Free Table Crackers in a single layer on a lightly greased cookie sheet. You will need 2-3 sheets. If that crackers are broken, that is o.k.
In a small saucepan over high heat, combine the Kinnikinnick Graham Cracker Crumbs, brown sugar, the stick of butter (cut into pieces), and the light cream. Stir until the brown sugar dissolves, butter melts and the mixture is well blended and starts to boil. Reduce heat to medium, and continue to stir for another 6-7 minutes – being careful not to scorch the mixture. Spoon over the crackers, and using the back of the spoon spread evenly. Place the crackers in the refrigerator until cooled – about ½ to 1 hour.
Next, melt the dark chocolate chips and the shortening in a small saucepan, making sure you keep stirring to prevent scorching. Once melted, remove the crackers from the refrigerator and evenly spoon the melted chocolate over the crackers.
Immediately sprinkle the toffee pieces over the crackers. Refrigerate for several hours to overnight.
Break into bite sized pieces. Store in the refrigerator. Enjoy!
Yields: 2-3 dozen pieces.
Recipe adapted from: Better Homes & Gardens, 100 Best Cookies
Want to buy the Glutino Table Crackers and the Kinnikinnick Graham Cracker Crumbs? Check out these links:
Glutino Gluten Free Table Crackers, 4.4 oz

Kinnikinnick Crumbs – Graham Style Gluten Free, 10.5000-Ounce (Pack of 3)
Tags: Friday Favorite, Gluten-Free Crackling Chocolate Crackers, Glutino gluten-free table crackers, Kinnikinnick Graham Cracker Crumbs