WIN-It-Wednesday: Newman's Own Salsa (Gluten-Free, Dairy-Free, Nut-Free & More!)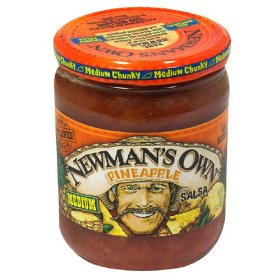 I love my nachos. My friends come over, any time of year, any time of day (well, almost!) and we make up our nachos. We love our smothered with all the good stuff…. melted Cheese (or a good non-dairy substitute), sliced black olives, jalapeno slices, black beans, guacamole and of course… Salsa. And our favorite salsa? Newman's Own.
An although Newman's Own Salsa comes in a variety of flavors – including the basic Mild, Medium and Hot, our favorites are the more off-beat salsa varieties, including Tequila Lime, Black Bean & Corn, Roasted Garlic, Mango, Peach and our all-time favorite Pineapple.
And the best part about these salsas is that they are SO GOOD paired with other foods – as a topping, a marinade and as a dip. An example is using the all-time favorite Pineapple Salsa spooned over a nice char-grilled piece of swordfish topped with a sprinkle of chopped cilantro, or the Peach Salsa mixed well with a teaspoon or so of apple cider vinegar and used as a marinade for boneless chicken breasts. And a must try is the Black Bean and Corn Salsa over a Western Omelet… out of this world!
These delicious salsas are also gluten-free, dairy free, egg free, peanut / tree nut free, fish / shell fish free and soy bean free. Plus, you can add MSG and sulfite free to the list as well. Check out all of the allergen info on these Newman's Own Salsa here.
The next two week's WIN-It-Wednesday prizes on BeFreeForMe are variety packs of three (3) Newman's Own Salsas! There will be FOUR (Yes… 4!) winners total… 2 each week. Two (2) winners will be randomly selected from the entries received before Tuesday, December 20, 2011 at 11:59 PM EST, and two (2) more winner will be randomly selected to win from the entries received between Wednesday, December 21 and Tuesday, December 27, 2011 at 11:59PM. SO – make sure you enter to win two times!
How can you win?
Easy!
This week we're gong to make it easy on you (being the Holiday's and all)…. Just reply to this blog and tell us what flavor of the Newman's Own Salsa sounds the best to you. How easy is that!
Good luck, remember to keep the spice in your salsa of life… and as always.
Be Free!
Tags: Is Newman's Own Salsa gluten free?, Newman's Own Salsa, Win-It-Wednesday