Tuesday, December 27th, 2011
If you are looking for recipes for gluten-free, dairy-free and egg-free breads look no further… "The Allergy-Free Cook Bakes Bread" cookbook is here!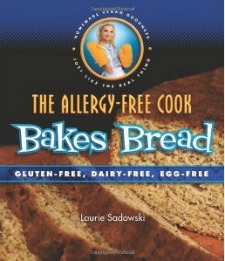 Laurie Sadowski, a food enthusiast with celiac disease (who is also a vegan) wrote this cookbook to share her collection of  delicious and tasty bread recipes available for those with celiac disease, dairy allergies, egg allergies, and also a vegan-life style, ADHD and autism.
What I like the most about this cookbook is the variety of bread recipes that are offered. They range from the sweet (Banana-Nut Monkey Bread or Baked Peach Fritters with Lemon Glaze, anyone?), to the savory (the Sun-Dried Tomato Focaccia with Shallots & Herbs will be tried the next time I make a big Italian pasta supper), and the comforting & basic (Chocolate Chip Banana Bread, Cinnamon-Swirled Sweet Potato Bread and the Olive Oil Biscuits with Roasted Garlic , Rosemary & Hempseed are all delicious!).
I especially like this cookbook because the recipes do not require the use of a bread-maker… which means the recipes can be enjoyed by everyone – no special equipment required.
And for those of you looking to increase your protein and fiber intake or put a healthy spin to your gluten-free and allergen-free bread there are a variety of recipes in this cookbook that include quinoa, flaxseed, sorghum, millet and buckwheat.
This "The Allergy-Free Cook Bakes Bread" Cookbook by Laurie Sadowski is the perfect answer to those that mistakenly believe that they can no longer "eat bread" after being diagnosed with celiac disease and other food allergies.
All of the delicious recipes and tons of useful info regarding gluten-free and allergen-free bread baking (like Dairy free substitutions for milk and butter; nutritional content and calorie comparison of gluten-free flours; and tips and techniques baking gluten, egg and dairy free) are the reasons I am so excited that "The Allergy-Free Cook Bakes Bread" Cookbook is the sponsor of BeFreeForMe's WIN-It-Wednesday contest for the next two weeks.
One (1) winners will be randomly selected to win a copy of the cookbook  from the entries received before Tuesday, January 3, 2012 at 11:59 PM EST, and one (1) more winner will be randomly selected to win from the entries received between Wednesday, January 4 and Tuesday, January 10, 2012 at 11:59PM. SO – make sure you enter two times to win!
How can you win?
Easy!
Reply to this blog and let us know your favorite way to enjoy gluten and allergen free bread  (Me? I have a tie! I love gluten-free focaccia dipped into a good quality herbed olive oil OR  hot Banana Bread smothered with melted butter… LOVE!)
Good luck, remember the best thing since sliced bread is gluten and allergen free bread  … and as always.
Be Free!
Note: Want to order this cookbook? Check out this link on Amazon.com: The Allergy-Free Cook Bakes Bread: Gluten-Free, Dairy-Free, Egg-Free