Thursday, December 11th, 2014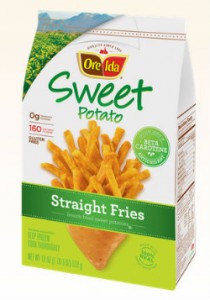 I love Sweet Potato Fries. So sweet and crispy. But up until a couple of weeks ago I have not been able to find any gluten-free Sweet Potato Fries to make at home.
Needless, I was thrilled when I saw the lettering "Gluten-Free" on the front of the package of Ore Ida Sweet Potato fries. These super crispy fries (at only 160 calories per serving) add a bit of flair when substituted for regular old French Fries. They are a great side dish to any burger, grilled chicken sandwich, steak, or even just on their own as a snack during game time. In addition, Ore Ida has over 30 products that are gluten-free.
Tasty, crispy and gluten-free… three reasons why this week's Friday Favorite is awarded to Ore Ida Sweet Potato Fries. Cheers!