Tuesday, December 2nd, 2014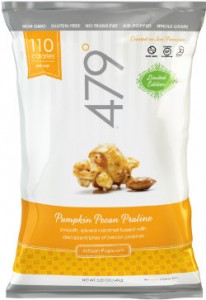 The holidays are here and it's time to kick up our snacking a notch or two! One of my favorite snacks of all time is popcorn. I love to put out a big bowl when I have guests and see it disappear by the handful. And if you want to add some extra special holiday flair to this go-to snack you must check out 479°  Popcorn.
This popcorn is like no other. The flavors are fun, sassy and irresistible. 479°  Popcorn is snacking at its best.
And lucky for us 479°  Popcorn has two new must-try limited-addition (get 'em when you can!) flavors for the Holidays: Pumpkin Pecan Praline and Dark Chocolate & Bing Cherry.
The founder of 479° Popcorn, Jean Arnold, started the company because she had nothing but fond memories of fresh, organic popcorn that was made by her Mom and enjoyed with her family during cozy moments playing cards. Her mom would make the popcorn with a "sturdy stove-top popper that she'd hand crank until the kernels turned into a delightful fluffy treat."
And over the years, and with years of culinary training, Jean started experimenting with exotic seasonings and flavorings on the same type of organic popcorn her mom popped many years before… and 479° Popcorn was born! (By the way, the name 479° Popcorn comes from Jean's discovery that 479° is the optimal temperature for popping popcorn! See… you DO learn something new every day!)
479° Popcorn varieties are all also certified gluten-free, Non-GMO and (drum roll please!) low calorie!
Besides the two special-edition Holiday flavors, the other flavors are: The Savory flavors… Asiago, Parmesan & Cheddar; White Cheddar & Black Truffle; Creamery Butter; Sea Salt; Farmers Market Herb and Toasted Sesame & Seaweed. And the Sweet & Salty varieties include… Toasted Coconut Caramel; Sea Salt Caramel; and Chipotle Caramel & Pumpkin Seeds.
All of these savory, sweet and salty snacking reasons are why I am so thrilled that 479° Popcorn is the sponsor of this Win-It-Wednesday on BeFreeForMe.com.
A total of three (yes, 3!) BeFreeForMe members will be selected to win 2 bags each of the two Holiday limited edition 479° flavors  (Pumpkin Pecan Praline and Dark Chocolate & Bing Cherry). Two (2) winners will be randomly selected from the entries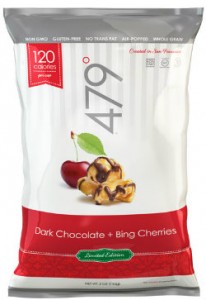 received before Tuesday, December 9, 2014 at 11:59 PM EST, and one (1) more winner will be randomly selected to win from the entries received between Wednesday, December 10 and Tuesday, December 16, 2012 at 11:59PM. SO – make sure you enter two times to win!
How can you win?
Easy!
Reply to this blog and tell us what variety of 479° Popcorn looks the best to you! (Me? I love the new Holiday flavor Pumpkin Pecan Praline… yum!)
Good luck, remember to keep your Holidays popping with good snacks… and as always,
Be Free!
P.S. Want to be the first to know about news, flavors, giveaways, and going-on's at 479° Popcorn? Then follow 479° Popcorn on Facebook!