Tuesday, December 16th, 2014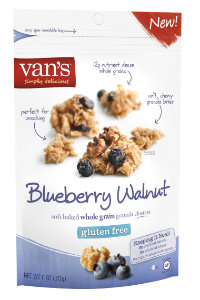 I love Van's Gluten-Free Waffles. The waffle that is the perfect quick-and-easy breakfast staple at my house. That is why I was thrilled when I found out about Van's newest products: their Whole Grain Pasta Skillet Dishes and their soft-baked Whole Grain Granola Clusters.
And just like the quality of their flagship waffles, these new products are also made with wholesome ingredients. They also contain no artificial flavors, colors or high fructose corn syrup. And they're convenient and easy to prepare.
Plus, all these new products are Certified Gluten-Free.
Van's Whole Grain Pasta Skillet Dinners are perfect for lunch or dinner – as a main entrée or even a side. I love that they can be prepared on the stove top in just 10 minutes, and the (suggested) retail price is $3.99 – perfect if time and money is tight. The three varieties are Rotini & Red Sauce, which is a robust marinara sauce over whole grain rotini pasta. And if you're looking to kick the dish up a notch – toss in some cooked chicken strips and sliced black olives and add some extra protein & flavor while you're at it!; Creamy Herb & Garlic which is a creamy whole blend of select spices and garlic tossed with a delicious
whole grain pasta for a gourmet type pasta dish. And if your feeling creative toss in some cooked chicken and sundried tomatoes and make this a dish that everyone will love as a main course at your dinner table; and last, the Ultimate Cheddar Penne, a classic cheesy favorite your whole family will love.
The Van's Soft-Baked Gluten-Free Granolas come in two fabulous flavors: the Blueberry Walnut and the Cranberry Almond. Both are great for breakfast, or for snacking. Try some sprinkled over Greek Yogurt, topped with fresh fruit, or just eaten by the handful. I love that these granolas are soft-baked, packed with fruit and nuts, and contain 12-grams of nutrient dense whole grains. Just check out the close up of these little soft-baked nuggets below!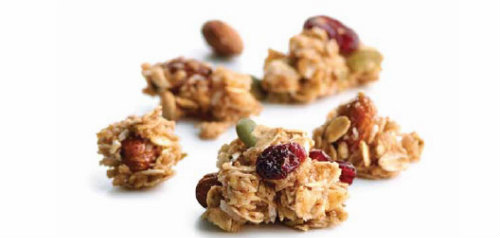 Both these new product lines are simple, and tasty, and deliver the Van Food's quality.
I am so thrilled that Van's has come out with these new Gluten-Free Products AND is sponsoring this WIN-It-Wednesday contest on BeFreeForMe.com!
A total of two (yes, 2!) BeFreeForMe members will be selected to win a prize pack of these new Van's gluten-free products. One (1) winners will be randomly selected from the entries received before Tuesday, December 23, 2014 at 11:59 PM EST, and one (1) more winner will be randomly selected to win from the entries received between Wednesday, December 24 and Tuesday, December 30, 2014 at 11:59PM. SO – make sure you enter two times to win!

How can you win?
Easy!
Reply to this blog and tell us which new Van's Gluten-Free product looks the best to you! (Me? The Creamy Herb & Garlic Pasta! Yum!)
Good luck, remember to keep things simple, yet tasty… and as always,
Be Free!
P.S. Want to be the first to know about news, giveaways, and going-on's at Van's Foods? Then follow Van's Foods on Facebook!