Friday Favorite: Fit Popcorn by Popcorn Indiana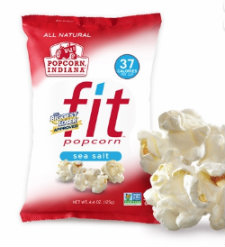 It you're looking for a low-cal tasty gluten-free snack to munch on, look no further than Popcorn Indiana's new Fit Popcorn.
I love munching on fiber-full popcorn, but often it is packed with artificial colors and flavors, fat, and sweeteners. Fit Popcorn has less than 37 calories per cup, is certified gluten-free, has no Trans Fat, and is made with all natural ingredients. Plus, it is made with non-GMO corn.
The flavors of Fit Popcorn are awesome too… Sea Salt, Extra Virgin Olive Oil, Onion Dijon and Parmesan & Herb.
Congratulations Popcorn Indiana on having your Fit Popcorn being awarded this week's Friday Favorite on BeFreeForMe.com!
Tags: Fit popcorn, Friday Favorites, Is Popcorn Indiana gluten-free?, Popcorn Indiana