Thursday, February 21st, 2013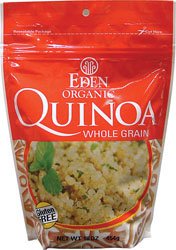 This week's Friday Favorite on BeFreeForMe is awarded to a must-have pantry staple – Eden Organic Quinoa.
Quinoa is a keeper. It's as versatile and as easy to make as rice, yet it's a whole grain that is packed with fiber. Once you give quinoa a try, you'll keep coming back for more. Check out the quinoa recipes that Eden Foods has on their website… so tasty! Here are just a few:
Quinoa Blueberry Walnut & Garbanzo Salad
Quinoa Fruit Salad with Herb Dressing
Roasted Quinoa Stuffed Onions
Eden Foods also offers over 220+ food items that are Gluten Free – including rice, condiments, teas and beans (their beans are packed in BPA cans… I love that!). Also, Eden's products are never adulterated with chemicals, preservatives, irradiation, colorings, refined sugars, or genetically engineered ingredients…. all things that are important to many.
Congratulations to Eden Foods for being named this week's Friday Favorite on BeFreeForMe.com!
Want to buy Eden Organic Quinoa? Check them out on Amazon.com!