Tuesday, September 6th, 2016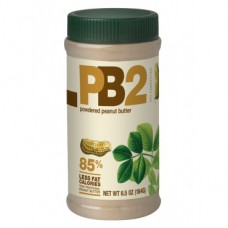 I love peanut butter. But I don't like all the fat and calories that come along with this super spread.
That is why I was so very, very excited to find PB2.
PB2 come in two flavors: the traditional peanut butter and, my favorite, peanut butter blended with premium chocolate (can you say yum?!) Both are gluten-free.
The product is made by slow roasting superior quality peanuts and then pressing them to remove 85% of the fat and oil… which produces a fine "peanut powder". Next they add in a bit of sugar and salt (No preservatives or artificial sweeteners).
And… magically… when you blend PB2 with water (mix 2 tablespoons of PB2 with 1 tablespoon of water) it makes a super delicious, tasty and creamy peanut butter that is only 45 calories per serving with only 1 gram of fat!  This product is perfect for those on Weight Watchers or those concerned with calories.
And if the chocolate variety is your fancy, added into the peanuts are ground cocoa beans… which produces a chocolaty peanut butter deliciousness!!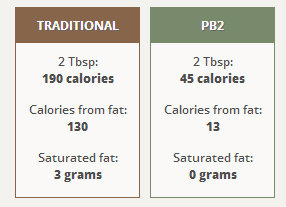 I love to whip-up a batch to dip sliced apples and pears into… or put a tablespoon or two of the powder into my smoothies, or atop my ice cream. The possibilities are limitless!
85% less calories and fat… superior taste… and endless possibilities are all the reasons why I picked up a couple of containers for this Win-It-Wednesday on BeFreeForMe.com. There will be two lucky winners. One (1) winner will be randomly selected from the entries received before Tuesday, September 13, 2016 at 11:59 PM EST, and one (1) more winner will be randomly selected to win from the entries received between Wednesday, September 14 and Tuesday, September 20, 2016 at 11:59PM. SO – make sure you enter two times to win!
How can you win?
Easy!
Reply to this blog and tell us how you enjoy peanut butter (Me? As mentioned above, I love dipping apple and pear slices in mine!).
Remember it's okay to be a little crazy and little peanuts… and as always, Be Free!
Want to buy now? Check out these links on Amazon.com: PB2 Powdered Peanut Butter