Win-It-Wednesday: tummydrops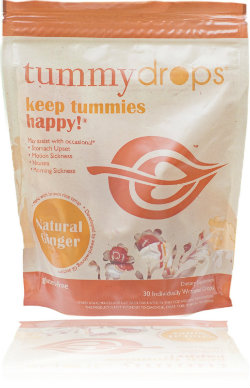 This week's Win-It-Wednesday is all about keeping tummies happy!
Whether it's cramps, bloating, upset stomachs, nausea, motion sickness or morning sickness, we all sometimes have tummies that take a toll.
That is why I was so excited to receive samples of tummydrops delivered to my doorstep.
Developed by
three award-winning Gastroenterologists
, these soothing drops create a convenient, all-natural, gluten-free way to take advantage of the natural soothing powers of ginger and peppermint… two of Mother Nature's best healers.
I love that
Tummy Drops
are a natural alternative that can assist in digestive issues. The Tummy Drop website hits the nail on the head when it says,
"Think of tummydrops as a cough drop, but to soothe upset tummies."
Just a like a cough drop that you pop in your mouth to soothe a scratchy throat, tummydrops are perfect to keep in your purse or bag for when you, or your kids, have a upset tummy. Just pop one in your mouth and let the soothing begin.
Tummy Drops
comes in two flavors: Ginger and Peppermint. The ginger drops are perfect for those that experiences stomach upset, motion sickness, nausea or morning sickness. Made with the purest and best tasting ginger, they are great for travel and when on the go. The peppermint drops are great for cramps, bloating, urgency, stomach upset and nausea. I love the natural peppermint oil that is in each and every drop. These drops are perfect for those unexpected stomach upsets.
All of these tummy taming reasons are why I am so excited that tummydrops is sponsoring this Win-It-Wednesday on BeFreeForMe.com
Two (2) lucky winners will each win a prize pack of  tummydrop items. One (1) winner will be randomly selected from the entries received before Tuesday, March 18, 2014 at 11:59 PM EST, and one (1) more winner will be randomly selected to win from the entries received between Wednesday, March 19 and Tuesday, March 25, 2014 at 11:59PM EST. SO – make sure you enter to win two times!
How can you win?
Easy!
Reply to this blog and tell which tummydrop flavor sounds the best to you.
Good luck, be kind to your tummy… and as always,
Be Free!
Want to hear more about tummydrops contest, coupons, giveaways and more? Follow them on Facebook, Twitter and Pinterest!
Want to buy now? Check out these links on Amazon.com! tummydrop ginger and tummydrop peppermint
Tags: Natural way to heal cramps and bloating, natural way to heal motion sickness, natural way to heal upset stomach, tummydrops, Win-It-Wednesday