Friday Favorite: Fabz Snacks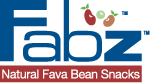 This week's Friday Favorite is awarded to a healthy little snack with big flavor and tons of good!
Fabz Snacks are an all-natural crunchy snack made of Fava Beans. The beans are sliced super thin, and baked to perfection with canola oil and sea salt.
I love that Fabz Snacks are low in calories (only 130 calories for 2 ounces) and are gluten-free, nut-free, Non-GMO, and have no trans fats. They are also packed with iron, fiber and protein.
My new favorite snack  is a great way to get good nutrition while crunching and snacking away!
All of these Fabz-ulous reasons are why this week's Friday Favorite is awarded to Fabs Fava Bean Snacks. Congratulations!
Want to find out more? Follow Fabz on Facebook, Twitter, and Pinterest!

Tags: Fabz Snacks, Fava Bean snacks, Fava Beans snacks natural, Friday Favorite