Win-It-Wednesday: Teeccino Gluten-Free Dandelion Herbal Coffee Alternative & TeeChia Super Seed Cereal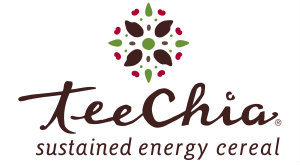 One of the best ways to start my morning is with a big bowl of Teechia Sustained Energy cereal mixed-up with some creamy yogurt alongside a piping hot Teeccino herbal dandelion coffee. Both certified gluten-free, caffeine-free and delicious.
Teechia Sustained Energy Cereal is made up of a delicious blend of six organic super seeds, plus certified gluten-free rolled oats. Then they are slightly sweetened by using fruits. It's a bowl of heaven!
This cereal comes in two flavors: Cranberry Apple and, my favorite, Blueberry Date. The  nutrient-dense super seeds (chia, flax, quinoa, ramón, amaranth, and pumpkin) in both of the varieties paired with gluten-free oats, fruits and nuts, create a high performance cereal that keeps me energized and satisfied all morning long. The cereal is also packed with 28 grams of whole grains, 6 grams of fiber and 6-7 grams of protein and is Non-GMO Project verified and certified gluten-free. It's cereal that you can feel good about eating!
And the Teeccino Dandelion Herbal Coffee… oh, how I love you! This herbal coffee alternative is a steaming cup of goodness for the morning, or night. I love that it satisfies my cravings for a good tasting cup of coffee, with no caffeine. With Teeccino you can have the best of both worlds – a good cup of coffee with  herbal ingredients. Pure bliss.
Teeccino's herbal gluten-free coffee alternatives are dandelion- based and "brings the health benefits of roasted dandelion root
including its inulin content, antioxidants, and stimulating effects on liver function to your cup" according to the Teeccino website. The Dandelion Herbal Coffee comes in two flavors: Dandelion Dark Roast and, my favorite, Dandelion Caramel Nut. Both are certified gluten-free.
The health-benefits of the herbs, combined with the rich coffee flavor make this a perfect coffee alternative. It is also the only certified gluten-free, barley-free & caffeine-free certified organic coffee alternative on the market.
All of these wonderfully delicious reasons are why I am so excited that
Teeccino's
is sponsoring this Win-It-Wednesday on BeFreeForMe.com.
Ten (Yes…10!) lucky winners will each win a VIP Sampler prize pack of the Teeccino items. Five (5) winner will be randomly selected from the entries received before Tuesday, April 1, 2014 at 11:59 PM EST, and five (5) more winner will be randomly selected to win from the entries received between Wednesday, April 2 and Tuesday, April 8, 2014 at 11:59PM EST. SO – make sure you enter to win two times!
How can you win?
Easy!
Reply to this blog and tell which gluten-free Teeccino Super Seed Cereal and/or Herbal Coffee sounds the best to you.
Good luck, always start your mornings off full of energy and goodness… and as always,
Be Free!
Want to hear more about Teeccino's contest, coupons, giveaways and more? Follow them on Facebook and Twitter!
Want to buy now? Check out these links on Amazon.com and take advantage of FREE Super-Saver Shipping!
Teeccino Dandelion Caramel Nut
Teechia Blueberry Date Sustained Energy Cereal
Teechia Cranberry Apple Sustained Energy Cereal
Tags: Teeccino cereal, Teeccino Dandelion Herbal Gluten-free Coffee, Win-It-Wednesday