Win-It-Wednesday: The Paleo Diet Bar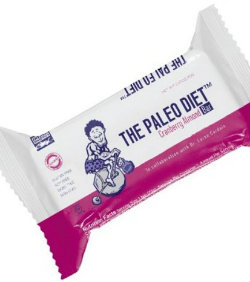 This week's Win-It-Wednesday is for all of you gluten-free, dairy-free and soy-free fans! The Paleo Diet Bar is free of these three culprits – as well as 100% Paleo Diet approved.
For those of you that don't know, the paleo diet, or the paleolithic diet,, is commonly called the caveman diet since it is based on the foods that our ancestors might have eaten: foods such as berries, nuts and meats; and excludes foods that they likely wouldn't have had access to: foods like processed grains and dairy.
The paleo diet has become popularized by Loren Cordain in his best-selling 2002 book, The Paleo Diet. Cordain is the world's leading expert and founder of the Paleolithic movement, and author of the bestselling books The Paleo Answer, The Paleo Diet Cookbook, and The Paleo Diet for Athletes.  Loren Cordain is the go-to guy when it comes to what's hot and what's not when it comes to the paleo diet.
And, Loren Cordain has exclusively endorsed The Paleo Diet Bars! Talk about HOT!
The Paleo Diet Bar is not only gluten, dairy, soy and grain free, but it is also non-GMO, preservative free, and contains all-natural quality ingredients. The bars also contain 17 grams of egg protein and 9 essential amino acids. Packed with protein and fiber these bars are both tasty and nutritious.
Also, the sugar content is natural, from the fruit in the product. There is no added sugar or syrup. The bars are made up of just fruit, nuts, seeds, berries, egg white protein with a bit of hemp protein to promote digestibility and also immunity.
The Paleo Diet Bars come in two great flavors: Cranberry Almond or Cinnamon Raisin. And coming soon are two NEW flavors: Cherry Apple Walnut and Blueberry Pear Pecan. To be the first to find out when they new varieties launch make sure you check out The Paleo Diet Bar's Facebook and Twitter pages for updates!
All of these reasons are why I am so excited that this Win-It-Wednesday is sponsored by The Paleo Diet Bars.
A total of two BeFreeForMe.com members will be randomly selected to win a prize pack of The Paleo Diet Bars. One (1) winner will be randomly selected from the entries received before Tuesday, May 26, 2015 at 11:59 PM EST, and one (1) more winner will be randomly selected to win from the entries received between Wednesday, May 27 and Tuesday, June 2, 2015 at 11:59PM. SO – make sure you enter two times to win!
How can you win?
Easy!
Reply to this blog and tell us which one of the two Paleo Diet Bars look the best to you. Is it the Cranberry Almond? Or the Cinnamon Raisin? Good luck, remember to eat healthy, but tasty … and, as always …
Be Free!
Want to buy now? Check out these links on Amazon.com:
Tags: Paleo Diet Bars, Win-It-Wednesday