WIN-It-Wednesday: GoPicnic… Meals-on-the-Go!
Being gluten or allergen free means that you always have to think ahead. Just like Shelley Case said in her "Ask Shelley Case" column yesterd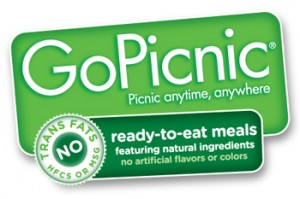 ay, we must follow the Girl Scout's motto and "Be Prepared".
But as Shelley knows, it can often be tough.
On most days I can barely get myself out the door on time. I can't think one step ahead, never mind two meals ahead.
When life gets a tad bit crazy, planning meals-on-the-go becomes no picnic. That's why I was so excited when Shelley directed us to GoPicnic, quick and easy meals on-the-go, as a healthy and nutritious snack or meal options.
I am doubly-thrilled that GoPicnic offered to be this week's WIN-It-Wednesday sponsor! Check out the GoPicnic website, and you will see why I am loving these products. More of a meal than an energy-bar, plus not needing refrigeration, these ready-to-eat GoPicnic tapas-type meals are the Go-To for the Super Mom, Super Kid, Super Jetsetter or Super Executive!
They have something for (almost) everyone. They offer gluten-free, kosher, nut-free, vegetarian, halal, soy-free, egg-free, fish & shellfish-free products that appeal to the kids (think Lunchables for the gluten and allergy free set) and for the adults (Think stashing in your glove compartment or briefcase for those times you need a quick & easy meal in a jiff).
For this weeks WIN-It-Wednesday prize, GoPicnic is offering THREE lucky BeFreeForMe members a Family Gluten-Free Variety Pack ! These packs consist of the following ready-to-eat meals:
• AnywhereBreak: Contains 16g of protein! Gluten-Free, No Fish & Shellfish ingredients.
• ZestyBreak: Contains 13g of dietary fiber & 32g of protein! Gluten Free & No Fish & Shellfish ingredients.
• ExploreMunch: Gluten Free, Egg-Free, Soy-Free, No Refined Sugars, Packaged in peanut-free facilities.
• SportsMunch: Gluten-Free, Soy-free, Egg-free, Fish & Shellfish-Free
• SafariMunch: Vegetarian, Halal, Gluten-free, Soy-Free, Egg-Free, Fish & Shellfish-Free
How Can You Win?!
Easy!
Reply to this blog post and tell us when you would need the GoPicnic meals the most (Me? I could really use one tomorrow during my Jury Duty! What if I get chosen? WHAT will I eat for lunch?!)
All entries must be received by Sunday, August 16, 2009 at 12:00 midnight EST.
BONUS:

  GoPicnic is offering

BeFreeForMe members 20% OFF all orders by entering the coupon code: BEFREE

at checkout through Sunday, 8/16/09! Check out their mailing list for future offers too!

Good Luck, and as always…
Be Free!

Tags: GoPicnic, Win-It-Wednesday