Win-It-Wednesday: Wild Friends Nut & Seed Butters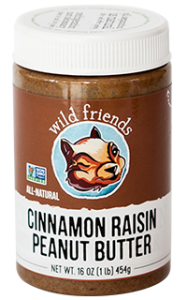 If flavors like Cinnamon Raisin, Pumpkin Spice, Sugar Cookie and Gingerbread make you want to curl up with a good book, a comfy blanket and sweet treat, you must check out Wild Friends Peanut Butter.
Let me tell ya… this peanut butter isn't your childhood ho-hum Skippy.
All-natural, non-GMO, and organic, the Wild Friend's Nut Butter is made for big kids… but loved by all. The seasonal flavors such as Pumpkin Spice, Sugar Cookie, and Gingerbread make a gluten-free piece of toast into a masterpiece.
I was hooked two years ago when I met the two co-founders at a trade show. These two gals are remarkable. I love a good women entrepreneurial story, and by gosh do these two have one to tell. Wild Friends was started when the two founders were in college. They ran out of peanut butter so they decided to give it a whirl and make their own. The rest is history.
Four years have now past, and the two have left their college dorm behind and are now based in Portland, Oregon. They've developed dozens of new flavors and se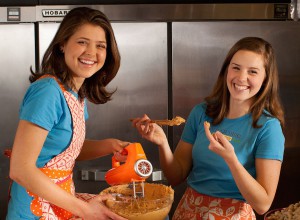 ll their product at thousands of stores across the country.
Also, the product is gluten-free and is tested to be under 20 PPM.
All these reasons are why I picked up a couple of extra jars of my favorite, Cinnamon Raisin, to offer up as prizes for this Win-It-Wednesday on BeFreeForMe.com.
A total of two (yes, 2!) BeFreeForMe.com members will be randomly selected to win a jar of Cinnamon Raisin Wild Friends Peanut Butter. One (1) winner will be randomly selected from the entries received before Tuesday, November 11, 2015 at 11:59 PM EST, and one (1) more winner will be randomly selected to win from the entries received between Wednesday, November 12 and Tuesday, November 17, 2015 at 11:59PM. SO – make sure you enter two times to win!
How can you win?
Easy!
Reply to this blog and tell us what Wile Friends Peanut Butter flavor looks the best to you… is it the Seasonal Pumpkin Spice, Gingerbread or Sugar Cookie? Or how about my favorite the Cinnamon Raisin? Or the Traditional Peanut Butter or maybe even the Vanilla Expresso Almond Butter?
Good luck, remember that being a little nutty is a good thing, and, as always …
Be Free!
P.S. Join me in following Wild Friends on Facebook, Twitter, and Instagram!
Want to buy now? Check out these links on Amazon.com:
– Cinnamon Raisin Peanut Butter
Tags: cinnamon raisin peanut butter, Gluten-free peunut butter, pumpkin spice peanut butter, Win-It-Wednesday