Win-It-Wednesday: Melville Candy Honey Spoons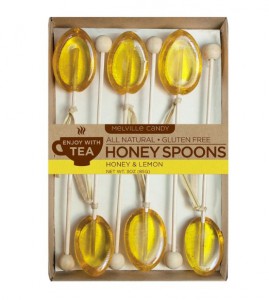 On a cool Spring day I love a sweet cup of hot tea in the afternoon. And my favorite sweetener for my tea? Honey, of course!
But carrying around a container of honey to add to my tea while on the run, can become one big messy, sticky mess. That is why I was so very excited to find Melville Candy Honey Spoons to make sweetening my tea quick, easy and as sweet as can be. All I need to do is dunk the honey spoon into my hot tea, stir it up a bit and wait about one minute to enjoy my perfectly sweetened tea.
For this week's Win-It-Wednesday I picked up two gift sets of the Melville Candy Honey Spoons for the two lucky winners of this contest! Each gift set of Melville Candy Clover Honey Spoons each contains 6 honey spoons made with real honey on wooden ball sticks. The Honey Spoons are all natural and gluten-free.
One (1) winner will be randomly selected to win a bag from the entries received before Tuesday, April 12, 2016 at 11:59 PM EST, and one (1) more winner will be randomly selected to win from the entries received between Wednesday, April 13 and Tuesday, April 19, 2016 at 11:59PM. SO – make sure you enter two times to win!
How can you win?
Easy!
Reply to this blog and tell us something sweet in your life! (Me? All my friends and family!)
Good luck, be a sweetie, and, as always …
Be Free!
Want to Buy Now? Check out this link on Amazon.com for the Honey Spoons and buy some today!