Win-It-Wednesday: E&C's Heavenly Hunks Gluten-Free Cookies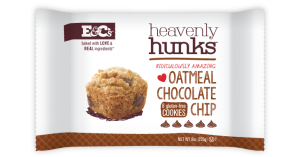 If you like a moist, chewy cookie E&C's Heavenly Hunks Gluten-free Cookies are a must-try.
This chewy goodness hunk of a cookie is what Elvis would call a hunk-of-burning-love. Yes, these cookies are gluten-free true love!
I love that the ingredients are simple too. (Oats, brown sugar, milk chocolate chips, butter, cassava flour, sugar, tapioca starch, potato starch, brown rice syrup, sunflower oil, whole eggs, baking soda, vanilla extract, xanthan gum, salt.)
E&C's story of how they started their cookie company is awesome too (I love a good entrepreneurial story!). The success of the company has also brought about other products. Another I am dying to try is the Hunkola. According to their website, "the best way to describe a Hunk of Hunkola  is literally a real food smash-up of almonds, cashews, cranberries, coconut, apricots, dates, strawberries, and blueberries all held together by whole gluten free rolled oats and a proprietary gluten free flour blend." Plus, they're gluten-free, vegan and non-GMO. YUM… these Hunkola's are next on my list to try!
A total of two(2) BeFreeForMe members will be selected to win a pack of the Heavenly Hunk Gluten-Free Oatmeal Chocolate Chip Cookies.  One winners will be randomly selected from the entries received before Tuesday, November 22, 2016 at 11:59 PM EST, and one more winners will be randomly selected to win from the entries received between Wednesday, November 23 and Tuesday, November 29, 2016 at 11:59 PM. SO – make sure you enter to win two times!
How can you win?
Easy?
Reply to this blog and tell us your favorite flavor or type of cookie! (Me? It's a toss-up…  I love macaroons and the traditional Chocolate Chip Cookie!)
Good luck, be a smart-cookie… and as always,
Be Free!
Tags: E&C's Cookies, Gluten-free moist cookies, Heavenly Hunk Cookies