Win-It-Wednesday: Biena Chickpea Snacks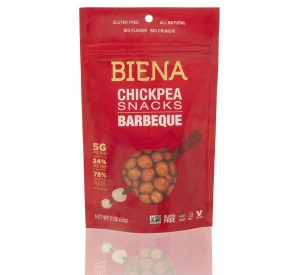 If you're looking for Big Flavor & Big Crunch grab a handful of Beina Chickpea Snacks!
These gluten free, dairy free and all natural snacks provide 5 grams of protein, 24% of daily fiber and have 78% less fat than roasted peanuts. They contain no artificial ingredients or flavors, and they are perfect for those looking for a sustainable and hearty snack that will get you (and your hungry belly!) through the day.
Biena Chickpea Snacks also come in some awesome flavors including Honey Roasted, Barbeque, Habanero, Cinnamon Crunch, and Sea Salt (Pssssss…. also coming soon are three new flavors… Milk Chocolate, Dark Chocolate and Salted Caramel… can you say YUM!)
This is such a healthy and yummy snack of a prize! One (1) winner will be randomly selected from the entries received before Tuesday, August  1, 2017 at 11:59 PM EST, and one (1) more winner will be randomly selected to win from the entries received between Wednesday, August 2 and Tuesday, August 8, 2017 at 11:59PM to win a bag of the Biena Chickpea Snacks. Make sure you enter two times to win!
How can you win?
Easy!
Reply to this blog and tell us what flavor of the Biena Snacks look best to you!  Good luck, remember to go for the big crunch and flavor … and, as always …
Be Free!
Tags: Biena Chickpea Snacks, Biena Foods, Gluten-free snacks