WIN-It-Wednesday: Navan Foods – The Allergy Free Food Shop
For those of you looking to find an allergen free food shop, that has personal and c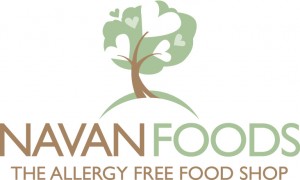 ustomized food options, look no further. Navan Foods is the place to find one-on-one individual service that is a friendly resource and one-stop shop.
Navan Foods has helped me, and BeFreeForMe members find those hard-to-find allergen free items. Two weeks ago, Jill, a BeFreeForMe member contacted me wondering if I knew of any corn free confectionary sugars, and where she could buy it. Jill needed the sugar to make the frosting for her wedding cake.
Without ado, I contacted Jennifer Elizondo, the owner of Navan Foods, and asked her to assist in helping this corn-free-frosting-seeking bride. Within 12 hours, Jennifer had contacted Jill and hooked her up with a corn-free confectionary sugar.
How's that for frosting on the cake customer service?
Another reason I like Navan Foods is the icon guide that effortlessly navigates you through the site. The icons make shopping for special diets easier. Navan does the hard work and determines what products are free of what allergens by contacting the manufacturer and asking them a series of questions about their products ingredients and their manufacturing facilities.
The icons represent products that are free of certain allergens (gluten, egg, soy, dairy, corn, etc.), specialty diets (vegan, organic, kosher, diabetic friendly, etc.) as well as icons representing healthy options (low fat, low cholesterol, low sodium and sugar free).
Navan Foods is sponsoring this week's WIN-It-Wednesday and is offering TWO Lucky BeFreeForMe members a $20 gift certificate, PLUS free shipping!
How can you win?
Easy!
Reply to this blog and tell us the one thing that you are glad you found that is gluten / allergen free (Me? Glutino gluten free pretzels!) or wish you could find (Me? Gluten free red licorice).
 Entries must be received by Sunday, September 6, 2009 at 12:00 midnight EST.
Good Luck… and as always…
Be Free!
Tags: Navan Foods, Win-It-Wednesday