WIN-It-Wednesday: Surf Sweets
Treat or Treat. It's that time of year again. Candy is on everyone's mind. But if you or anyone you know, or love, has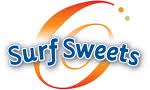 food allergies or a gluten-intolerance this can be a spooky time of year when it comes to finding allergen and gluten friendly treats.
Thanks to Surf Sweets there's some fantastic gluten and allergen free candies that are sure to please any allergen-free ghost or gluten-free goblin. Free of artificial sweeteners and flavors, Surf Sweet candies are also free of gluten, made in a nut-free facility, and are also casein free, wheat free, dairy free, soy free, egg free, fish free and shellfish free.
Surf sweets are also different than any other gummy candies and jelly beans because they're made with natural colors, flavors, organic fruit juice and sweeteners. Another bonus is that they provide your daily allowance of Vitamin C and are one of the only candies made without corn syrup. Surf Sweets also offers some super fun products: Gummy Worms, Sour Bears and Jelly Beans are just a few of the choices. They also offer tons of great Halloween recipes on their website that are fun for the kids to make.
Obviously, this is a Boo-tiful (sorry, I couldn't resist) sponsor for BeFreeForMe's Halloween week's WIN-It-Wednesday. The prize? One BeFreeForme member will win a gift box packed with Surf Sweet products… how sweet is that?
How can you win?
Easy!
Tell us what you, or your kids, will dress-up as for Halloween this year or the best Halloween costume you ever dressed up as or have ever seen. This should be a good one – full of some fun replies – and I can't wait to read them all! (Me? My best costume ever was a hippy… when I was a little girl for years and years – I loved that navy blue fringed vest!) 
All entries must be received by Sunday, November 1, 2009 at 12:00 Midnight (EST). You must be a BeFreeForMe member to win.
Good Luck, love those gluten and allergen free treats, and as always…
Boo Free!
Tags: Win-It-Wednesday