WIN-It-Wednesday: Go Picnic – Meals on the Go!
One of BeFreeForMe's most popular WIN-It-Wednesday blogs was the Go Picnic "on-the-go" gluten and allergen free meal kits.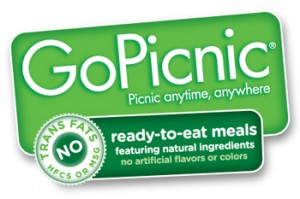 I think it was probably a favorite since anyone that is on a gluten-free diet or has food allergies knows how hard it can be to have food that you can take on the run.
Being gluten or allergen free means that you always have to think ahead. And as we all know that sometimes can be tough.
When life gets a tad bit crazy, planning meals-on-the-go becomes no picnic. That's why I was so excited when I found GoPicnic, quick and easy meals on-the-go, as a healthy and nutritious snack or meal options.
I love these products. They don't need any refrigeration, and there are lots of flavors and options in every "meal kit". My favorite is the ZestyBreak kit that contains turkey pepperoni slices, asiago cheese spread, Mary's Gone Crackers whole grain crackers, a yummy zesty snack mix called Sheffa, dried apricots, a Lara bar and a piece of dark chocolate! Perfect for an airplane, road trip, or a between meeting or afterschool snack.
They have something for (almost) everyone. They offer gluten-free, kosher, nut-free, vegetarian, halal, soy-free, egg-free, fish & shellfish-free products that appeal to the kids (think Lunchables for the gluten and allergy free set) and for the adults (Think stashing in your glove compartment or briefcase for those times you need a quick & easy meal in a jiff).
For this weeks WIN-It-Wednesday prize, GoPicnic is offering a lucky BeFreeForMe member a Family Gluten-Free Variety Pack ! This pack consist of the following ready-to-eat meals:
• AnywhereBreak: Contains 16g of protein! Gluten-Free, No Fish & Shellfish ingredients.
• ZestyBreak: Contains 13g of dietary fiber & 32g of protein! Gluten Free & No Fish & Shellfish ingredients.
• ExploreMunch: Gluten Free, Egg-Free, Soy-Free, No Refined Sugars, Packaged in peanut-free facilities.
• SportsMunch: Gluten-Free, Soy-free, Egg-free, Fish & Shellfish-Free
• SafariMunch: Vegetarian, Halal, Gluten-free, Soy-Free, Egg-Free, Fish & Shellfish-Free
How Can You Win?!
Easy!

Reply to this blog post and tell us when you would need the GoPicnic meals the most (Me? I keep one stashed in my office drawer, for when I need a pick-me-up snack!)
All entries must be received by Sunday, December 6, 2009 at 12:00 midnight EST.
Good Luck, remember that life is a picnic, and as always…
Be Free!
Tags: Go Picnic, Win-It-Wednesday