WIN-It-Wednesday: Marconi Infused Olive Oils
Since we had such a tremendous response to the Finishing Salt WIN-It-Wednesday last w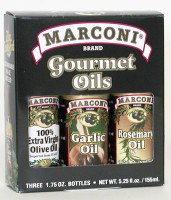 eek, BeFreeForMe staffers decided to keep up the theme on flavorful cooking for this week too!
The sponsor of this week's WIN-It-Wednesday is Marconi Infused Oils. These oils are one of my all time favorites to cook with and they have been for many years. Why? They are a perfect f"lavor-picker-upper".
As mentioned in past blogs, food can be crazy fun because of these infused oils! I use them on everything, from grilled chicken, fish and white rice. (Some great recipes using Marconi Infused Oils can be found on BeFreeForMe and include: Rosemary Infused Roasted Chicken, Shrimp and Pepper Rosemary Skewers and Sauteed Broccoli and Feta with Jalapeno Olives).
But my preferred and most ingenious use of these infused olive oils is as an all-time stand-by salad dressing on the run…I actually keep one of the small sample pack sizes in my purse! (Note: A sample pack of 3 only cost $4.50 through the Marconi website!)
The Marconi Infused Oils come in six (6) varieties:
• Marconi GARLIC Infused Oil
• Marconi BASIL Infused Oil
• Marconi OREGANO Infused Oil
• Marconi ROSEMARY Infused Oil
• Marconi JALAPENO Infused Oil
• Marconi DIPPING Oil
Being an all-time fan makes it a pleasure for me to pick 7 (yes… SEVEN!) lucky BeFreeForMe members to receive a FREE coupon for any one Marconi Oil item of their choice at their local grocer (up to a $40 value!).
How can you WIN?
Easy!

Just reply to this blog and let me know which Marconi infused oil you would most like to try. Also, feel free to share and let the rest of us know how you like to use olive oil in your recipes / cooking too! (Me? I like to use the Basil Infused Oil drizzled over garden fresh tomatoes, basil leaves & goat milk mozzarella).
All entries must be received by Tuesday, April 20th at 12:00 Midnight EST.
Good Luck, Infuse flavor into your life daily… and as always…
Be Free!