WIN-It-Wednesday: Kettle Cuisine Soups (Nominated for the 2010 Foodie Awards!)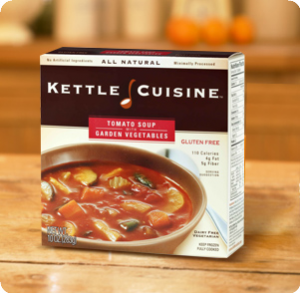 Kettle Cuisine Soups are some of my favorites. That why I was delighted to hear that their Tomato Soup with Garden Vegetables has received accolades from Vegetarian Times Magazine and has been nominated for the 2010 Foodie Awards!
Now the voting begins for the winners!
For years Kettle Cuisine has been making all natural soups that are full of fresh and healthy ingredients. Gluten-free is a way of life for the folks over at Kettle Cuisine since the founder's (Jerry & Lorna) daughter, Kate, has been diagnosed with celiac disease for several years.
And if you have yet to try these soups, you need to give them a try. Kettle Cuisine soups are made just the way you or I would make them at home… with no shortcuts, no artificial ingredients. All ten varieties of Kettle Cuisine soups are gluten-free, and several are also dairy-free, low-fat and vegetarian too. Kettle Cuisine does not have that tin-canny mass-produced taste that many soups out there have. Kettle Cuisine is just good old fashioned soup – made the way we would ourselves.
I think it would be so very, very awesome if Kettle Cuisine wins the Vegetarian Times 2010 Foodie Award! Kettle Cuisine has been so supportive of the gluten-free and the food allergic communities. It would be great to see such a strong supporter of our communities win this ever prestigious award!
Soooo, I am asking every BeFreeForMe members to log on to VOTE for Kettle Cuisine! How can you vote? Easy…
• Click on this link http://www.vegetariantimes.com/2010foodieawards
• Scroll down, enter your name and email address
• You can then cast your vote in as many categories as you choose but be sure to answer question 21 and pick Kettle Cuisine!
• Click submit.
• Forward this email to friends and family and ask them to vote too.
• Remember… You only have until June 9th to vote.
PLUS – This week Kettle Cuisine is offering five (Yes, 5!) LUCKY BeFreeForMe members a FREE Coupon for the Kettle Cuisine Soup of your choice!
How can you WIN?
Easy!
Reply to this blog, and let us know which Kettle Cuisine Soup variety is your favorite, or one you would like to try the most.
Remember, all replies for the WIN-It-Wednesday must be received by 12:00 midnight EST on Tuesday, May 11, 2010.
Good Luck, May both YOU and Kettle Cuisine WIN!… and as always,
Be Free!
Tags: Kettle Cuisine, Vegetarian Times 2010 Foodie Awards, Win-It-Wednesday