WIN-It-Wednesday: Didi Davis Food – Salt Blend Collection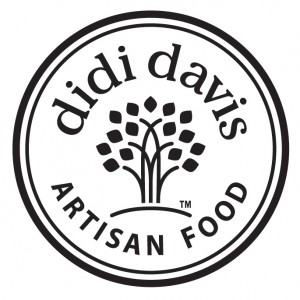 For those of you that are looking to shake up some of your recipes with tons of flavor and spice… look no further! Didi Davis Food Blended Finishing Salts are a must have in gluten and allergen free kitchens. Getting tired of ho-hum grilled chicken breast? Dash on some Sagemary Salt, to add a spicy, fresh-from-the-garden herb flavor; is your salmon getting bored and poached to pieces? Splash some Fennel Thyme Salt on top and enjoy a clean, crisp calorie-free and allergy-free addition, and if your green beans need a little fancying-up for company, toss in some sliced almonds and a dusting of the Vanilla Salt.
Created from Flor de Sal (a moist Portuguese sea salt) and fresh herbs, DiDi Davis Salt Blends add flare, crunch and piazza to any fresh and cooked gluten and allergen free dishes.
Natural sea salt is the way to go when salting your foods. I love the briny, strong and earthy taste compared to regular white table salt. Plus, because of the fuller flavor in sea salt, I use way less salt in my dishes as well.
For recipe and usage ideas you can also check out Didi Davis Food blog, appropriately named, The Salty Dog blog.
Some of the blends that these finishing salts come in are: Fennel Thyme Salt, featured in this recipe,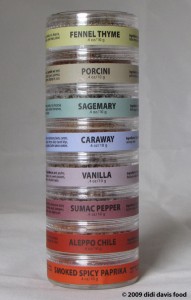 Oven-Poached Salmon with Fennel Thyme Salt; Porcini Salt, wonderful used in gluten-free broths and gravies; Sagemary Salt, a blend of sage & rosemary and my personal favorite; Caraway Salt, perfect accompanied over sweet Italian sausage tossed with olive oil over Penne pasta; Vanilla Salt, a sweet addition when speckled over in-season buttered corn-on-the-cob; Sumac Pepper Salt, ideal as a topping for fresh seasonal steamed vegetables like in this Asparagus with Sumac Pepper Salt recipe; Aleppo Chile Salt, to flavor for chili & tacos and last the Smoked Spicy Paprika Salt, which is great over smoked beef, charcoal grilled burgers or used in this recipe Roasted Potatoes with Smoked Paprika Salt.
All these fabulous salt blend creations are why I am so very excited that DiDi Davis Food is this weeks WIN-It-Wednesday sponsor.
Three (Yes 3!) Lucky BeFreeForMe members will win a Didi Davis Food Salt Blend Collection, which consists of a sampler pack of the eight salt blends listed above.
How can you WIN?
Easy!
Reply to this blog and tell us which of the salt blends listed above sound the best to you… as well as how you would use it. (Me? I would love to try the Vanilla salt over a Spinach & Strawberry Salad, or the Aleppo Chile Salt in Bloody Marys!). All entries must be received by Tuesday, August 24 at 12:00 midnight EST.
Good Luck, Remember to break out of your routine and shake things up once in awhile, and, as always…
Be Free!
Tags: Didi Davis finishing salts, Didi Davis Foods, Gluten-free finishing salts, Win-It-Wednesday