Friday Favorite: Heartland Gluten-Free Pasta
The La Cantina, a family owned Italian restaurant located in Framingham, Massachusetts, was one of my favorite restaurants to visit before going gluten-free several years ago.
The folks over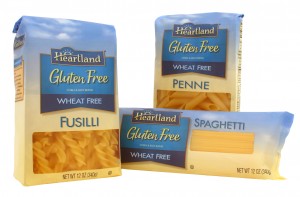 at La Cantina believe in "true Italian cooking" which shines through in all of their menu items. Dishes that include fresh vegetables and meats; antipastos topped with homemade salad dressing; and their signature pasta dishes that feature the best ingredients tossed with hearty and hefty portions of pasta.
Unfortunately after my celiac diagnosis, I nicknamed "La Cantina" to "La Can't Eat It".
But last Saturday, as I was doing a drive by (would this be considered stalking my favorite restaurants of the past?) I saw a huge "Gluten-Free Menu Available" on their front sign.
A celiac dream come true.
I happily ran walked in, grabbed a seat, and asked the waitress for the gluten-free menu. She immediately advised me that they had just switched brands of gluten-free pasta and the new one "really, really, really tastes like the regular pasta – but isn't".
If there was a bubble that popped over my head that mimicked what I was thinking it would have read,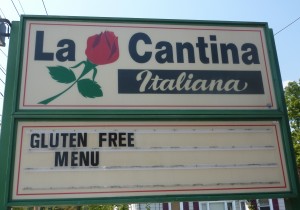 "Yeah right… I'm just happy to be sitting here. Quit teasing me, Miss Real Pasta."
But when the dish arrived, the penne "looked" like real penne. It wasn't sticky, it wasn't pale, it wasn't one big glob of pasta. But remembering the comment Miss Real Pasta made I decided to give it a try it. So I took just one tiny bite – and instantly I knew that this was not gluten-free pasta.
Thoughts of a piece of penne pasta making me sick for days ran rampant through my noodle.
So I called Miss Real Pasta over and asked her to double-check with the chef to make sure that I was served the gluten-free pasta. She did – and informed me it was indeed gluten-free. (Note: I even asked her if she checked with the chef that actually put the pasta in the water to cook, since I was still skeptical.)
Feeling a little bit leery about being able to really enjoy the meal (I'm sure many of you know the way I was feeling here), I called Miss Real Pasta back over yet again and asked her if she could tell me the brand of pasta "since it tasted so good, I want to see if I could find it for myself at the supermarket."
As I was asking her this another bubble could have been floating over my head with the words, "I am positive that you people have confused organic or all-natural pasta with gluten-free pasta. This is a trick question and will confirm my suspicion of you serving me glutenized pasta".
But… lo-and-behold I was wrong. I discovered that this "miracle-that-tastes-like-the-real-thing" pasta was Heartland Gluten-Free Pasta. A new gluten-free pasta that has been toted as "matching the color, texture and flavor of traditional pasta – an industry first." After doing some research, and finding an article about this new pasta, I found out that Heartland Gluten-Free Pasta comes in spaghetti, penne and fusilli shapes and owes its real pasta taste to a unique yellow corn/white rice blend.
This pasta is unbelievable. SO good! When I was eating it I had NO inkling that this pasta was gluten-free.
Oh… and I almost forgot… besides finding Heartland Gluten-Free Pasta (which is also dairy-free too) at La Cantina Restaurant in Framingham, Massachusetts, you can also find it at Wal-Marts.
Heartland Gluten-Free Pasta is this week's BeFreeForMe Friday Favorite for making gluten-free pasta that, spoken like Miss Real Pasta, "really, really, really tastes like the regular pasta – but isn't". Honestly and truthfully…. no need to triple check.