Friday Favorite: VerMint's Ginger Mints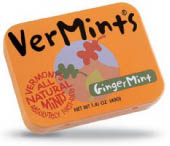 Made with Organic crystallized cane juice, organic Vermont maple syrup, and ground ginger root VerMint's Ginger Mints are one of my favorite mints.
Different than other peppermint or cinnamon mints, these sassy ginger VerMints have a spicy taste that are great for soothing a tummy while traveling, or after a meal.
Made in Vermont with organic ingredients, they are also gluten and nut free. These Friday Favorite mints, that come in fun little tins, put a little sweetness and spice into a great stocking stuffer idea!