Friday Favorite: Cedar's Aegan Edamame Salad
The Aegan Edamame Salad made by Cedar's Mediterranean Foods is fresh, crisp and full of a variety of flavors. Found in the refrigerated department of grocery stores,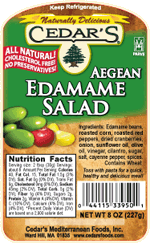 alongside the hummus, grape leaves and other Mediterranean foods, this salad is a flavor-powerhouse.
Made with Edamame (soy), roasted corn and red peppers, and tossed with just enough cilantro, this salad is perfect side to compliment a sandwich, atop a fresh garden salad, or even sprinkled over cooked fish or chicken.
But beware… this salad is addictive! I can easily finish off a tub of this in a couple of days… all by myself.
I'm all about trying something new, and discovering my new favorite "can't live without it" food; which is exactly what Cedar's Mediterranean Aegan Edamame Salad has turned out to be. All these reasons are why this all natural and cholesterol-free salad is receiving the Friday Favorite honor on BeFreeForMe this week!
Tags: Cedar's Mediterranean Aegan Edamame Salad, Cedar's Mediterranean Foods gluten free