Friday Favorite: Maria & Ricardo's Gluten-Free Tortillas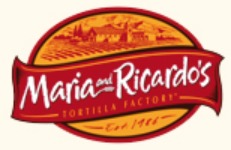 For the second week in a row we will stay on the theme of good gluten-free Mexican style foods that can be enjoyed at home, so with that in mind this week's Friday Favorite on BeFreeForMe goes to Maria & Ricardo's Gluten-Free Tortillas.
If you're craving to make an authentic street vendor style Burrito that is bursting at the seams with grilled chicken, beef, guacamole, beans, rice and chipotle seasoning this gluten-free tortilla is for you!
Being from New England, I grew up on fish & chips from the corner restaurant for a quick and easy meal. I never had a burrito until I visited my older sister in San Francisco while she was attending college.  And this experience was one that I will never forget.
Burritos in San Francisco have a cult-like following. On every street corner in the Mission District, are tiny, family-owned burrito shops, called Taquerias, that make the best burritos in the world. Each burrito made is packed with love and good, fresh food.
These burritos are one of the things I miss the most since going gluten-free.  One of my favorite food-bloggers, Dabney Gough, and also one of my sister's burrito loving buds from San Francisco, describes the love of burritos the way only a San Franciscan could in this fantastic blog post.
I've learned since going gluten-free that you have to take eating Burritos, literally, into your own hands. And this, my fellow burrito loving amigos, is where Maria & Ricardo's gluten-free tortillas come into play!
The Maria & Ricardo gluten-free tortillas are soft, pliable and the perfect tortilla for making gluten-free burritos, soft tacos, or quesadillas at home. Made with sorghum, potato and tapioca flours, these gluten-free rounds-of-joy are great for stuffing, wrapping and rolling.
Currently available in the frozen department of only a handful of Whole Foods and some smaller supermarkets, the quest for these tortillas are worth the while. I have gone as far to ask my local grocers to carry them – and suggest you do the same.
Good ole' San Franciscan Taqueria-style burritos made in my own kitchen in the heart of New England is the reason this week's Friday Favorite honors goes to Maria & Ricardo Gluten-Free Tortillas.
Bueno!
Tags: Friday Favorites, Gluten-free tortillas, Maria and Ricardo's Tortillas