WIN-It-Wednesday: Gluten-Free Cupcakes Cookbook by Elana Amsterdam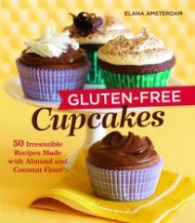 It seems that everywhere you turn you hear about cupcakes. Cupcakes, cupcakes, everywhere! The Food Network featured a show called "The Cupcakes Wars"; cupcake boutique bakery shops are popping up everywhere, and one of my favorite wines graces the Cupcake name and image of these little lovely cakes.
And this recent cupcake craze is o.k. with me. I have always loved cupcakes. Cupcakes are happy little cakes. I'll take a cupcake over a slice any day. Fun, compact, and made to eat with your fingers (have you tried to eat a slice of cake with just your hands?) the cupcake is all about individuality. No slicing, no fighting over who will get the frosting flowers,  no objecting that the pieces is "too big" or "too small".
Cupcakes in the world make everything good.
I remember when I was a little girl my Mom would make a rainy afternoon fun by letting me and my sister's decorate our own custom-made cupcakes.
Each cupcake a tiny, sweet personalized cake of perfection.
And now… thanks to Elana Amsterdam (fondly and famously known as @elanaspantry on twitter and Elana's Pantry on Facebook) cupcakes are once again a personalized & perfect treat for those living the gluten-free life! It's all good once again.
Gluten-Free Cupcakes: 50 Irresistible Recipes Made with Almond and Coconut Flour
is a cookbook packed with fun (Banana Split Cupcakes), sweet & fruity (Strawberry Cupcakes with Strawberry Meringue Frosting), nostalgic (Cream-Filled Chocolate Cupcakes… Hostess cupcakes anyone?), decadent (Flourless Chocolate Coconut Cupcakes with Vegan Chocolate Frosting) or savory (Scallion Goat Cheese Muffins) cupcake recipes. The recipes are all made with either coconut flour, almond flour, or no flour at all – so they are perfect for those following the gluten-free diet. Some are even dairy and vegan-free.
What I love the most about this cookbook is the variety of cupcakes offered, as well as the vivid and beautiful photographs. The recipes are also easy-to-read, typed in a pleasing-font, and are kid-friendly both with the making and the eating.
All of these delicious recipes and reasons are why I am so thrilled that Elana's Pantry will be sponsoring the next two week's Win-it-Wednesday's on BeFreeForMe.com!
A total of FOUR (Yes… 4!) BeFreeForMe members will be selected to win a copy of Gluten-Free Cupcakes. Two winners will be randomly selected from the entries received before Tuesday, May 17th , 2011 at 11:59 PM EST, and two more winners will be randomly selected to win from the entries received between Wednesday, May 18th and Tuesday, May 24th, 2011 at 11:59PM. SO – make sure you enter to win two times!
How can you WIN?
EASY!
Reply to this blog and tell me your favorite personal cupcake memory or your perfect cupcake variety!
Good luck, remember the cupcake and look for sweetness in the tiny things in life… and as always,
Be Free!
P.S. Want to buy this Gluten-Free Cupcake? Buy it now on Amazon.com! Check out this link: Gluten-Free Cupcakes: 50 Irresistible Recipes Made with Almond and Coconut Flour
Tags: Elana's Pantry, gluten free cupcake cookbook, gluten free cupcake recipes, Gluten-Free Cupcakes Cookbook by Elana Amsterdam, Win-It-Wednesday