Friday Favorite: Luna Protein Bars… Gluten-Free!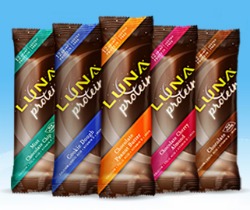 When I went to an event in Boston a few weeks back there were was a Luna Bar promotion. As I was walking by the booth, the friendly gals that were working asked me if I would like to try a Luna Bar.
Knowing Luna Bar had been a no-no in the past, due to the ingredient list containing gluten, I disappointingly said I couldn't because of the gluten.
BUT… much to my delightful surprise the gals came back and told me that Luna has reformulated their PROTEIN  Bars to be gluten-free! (Note: Only the Luna PROTEIN Bars are gluten-free – the regular Luna Bars are not!)
Here is the statement from the Luna Bar website:
At the beginning of 2011 we started to transition all LUNA Protein flavors to be gluten free. To do this, Clif Bar & Company has looked at all aspects of making our bars. Our ingredient suppliers have confirmed that all ingredients are gluten free, so they contain no gluten from wheat, rye or barley. The location where we make our food is capable of making a gluten free food and we test our finished products to confirm that they are gluten free.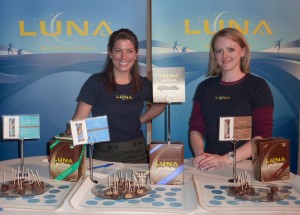 Our newest flavors, Mint Chocolate Chip and Chocolate, are all labeled gluten free.
As of March 2011, Chocolate Peanut Butter, Cookie Dough, and Chocolate Cherry Almond transitioned to be gluten free, as well. You can tell if your LUNA Protein bar is gluten free by looking at the packaging.
I tried all of the flavors that they were sampling, and my favorite was the Cookie Dough, followed by the Mint Chocolate Chip. They also have additional flavors of: Chocolate Peanut Butter, Chocolate, and Chocolate Cherry Almond.
Under 200 calories per bar, packed with protein and now gluten-free are all the reasons this week's Friday Favorite is awarded to Luna Protein Bars! Enjoy!