WIN-It-Wednesday: Erewhon Crispy Brown Rice Cereal
This  Win-It-Wednesday is going to be a crowd-pleaser for many, many BeFreeForMe members!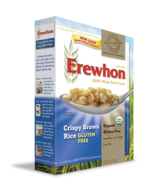 Why? Erewhon Crispy Brown Rice Cereal cereal is not only gluten-free, but also free of nuts, dairy and eggs.
Erewhon, which was founded in 1966, has been making gluten-free crispy brown rice cereal for years – they are the first. The original. Some other gluten-free varieties offered include Cocoa Crispy Brown Rice Cereal full of chocolaty-goodness thanks to organic cocoa powder; and my favorite, Crispy Brown Rice Cereal with Mixed Berries, which is packed with dried raspberries, strawberries and blueberries. All their gluten-free cereals are certified gluten-free by GIG (Gluten Intolerance Group).
And I love the fact the Erewhon Crispy Brown Rice Cereal contains only 3 ingredients: Organic brown rice, organic brown rice syrup & sea salt. Nice and simple – with no preservatives or bad-for-me-or-my-family ingredients.
Sometimes the simplest things in life are the best things.
I've become quite the label reader since become gluten-free and without fail I read the labels of every. single. thing. I eat.
When I first became a label reader, it was simply to seek out any ingredients that I could not eat – ingredients that may be a culprit for gluten.
But with time, my label-reading has gone further.
I now read labels not only searching for ingredients that I can not eat, but also for ingredients that I don't want to eat. Ingredients like preservatives, ton of sugar, stabilizers, and high-fructose corn syrup – Ingredients that many large cereal manufacturers unnecessarily use in their gluten-free cereals.
All these simple, yet appreciated,  reasons are why I am so happy to have Erewhon cereal sponsor the next two week's WIN-It-Wednesdays on BeFreeForMe.com.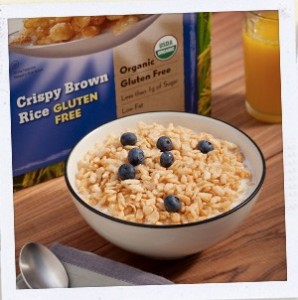 How can you win?
Easy!
Reply to this blog and tell us one simple thing in life that makes you happy. (Me? My clothesline… because it saves me money and the way my clothes smell after drying in the fresh air all day!)
A total of SIX (Yes… 6!) BeFreeForMe members will be selected to win a prize pack containing three (3) free product coupons (each coupon is good for a FREE box of Erewhon cereal) and an Erewhon t-shirt. Three (3) winners will be randomly selected from the entries received before Tuesday, June 21, 2011 at 11:59 PM EST, and three (3) more winners will be randomly selected to win from the entries received between Wednesday, June 22 and Tuesday, June 28, 2011 at 11:59PM. SO – make sure you enter to win two times!
Good luck, Keep things simple… and as always…
Be Free!
P.S. If you haven't done so yet, make sure you download a $1.50 OFF Coupon for Erewhon cereals too!