Friday Favorite: cocomama Quinoa Cereal
I am a huge fan of quinoa, but to be truthfully sometimes I don't have the time, or the energy, to cook up a batch and transform this gluten-free grain into something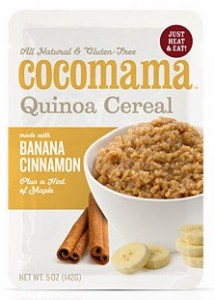 magnificently delicious.
That is why I was thrilled to discover cocomama Quinoa Cereal.
This creamy, yet slightly crunchy, gluten-free cereal can be served hot… or cold… although I prefer to have my cocomama served piping hot. And besides the delicious taste, another beauty of this product is the packaging – Each serving comes in its own BPA-free microwavable pouch that allows you to have your breakfast ready in just minutes. No water, no mixing, no stirring… no mess. Can you say simple?
And the ingredients are so simple too: coconut milk, banana, organic quinoa, maple syrup, lemon juice, cinnamon, vanilla, sea salt. I love that all the ingredients are ones I have in my own cupboards. What a great way to start the day!
My favorite flavor is the Banana-Cinnamon. Reminiscent of fresh banana bread right out of the oven, this hot cereal tantalizes your senses with notes of pure maple syrup and fresh vanilla. A breakfast keeper!
All the cocomama cereal, including the Banana-Cinnamon, and the two other flavors – Orange Cranberry and Wild Blueberry – are gluten-free, dairy-free, soy-free and vegetarian. They are also made with real fruit, and supply a healthy dose of protein and fiber.
Convenience, health and good taste are all the reasons why this week's BeFreeForMe's Friday Favorite goes to cocomama Quinoa Cereal.
coco-gratulations!
Tags: cocomama Quinoa Cereal, Friday Favorites, gluten-free cereal