Ask Shelley Case: Picky-Eaters and the Gluten-Free Diet – How to Tackle Both!
Question: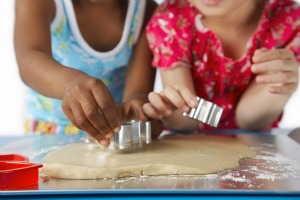 My 6 year old daughter just got diagnosed with celiac disease. She's such a picky eater, I'm afraid she won't eat anything! Please help!
Answer:
Over the years I've heard this question many times – so rest assured that you are not the only parent with this concern. The key to making your child's transition from "picky eater" to "gluten-free eater" effortlessly is to give your child a bit of control and decision making in her food choices and meal preparation. Here are a few suggestions on making this transition go from hassle-free to gluten-free in no time at all!
Help them understand the gluten-free diet: Age permitting, make sure that your child understands what the gluten-free diet is all about. Encourage them to ask questions. Introduce them to books that are geared towards children and address the gluten-free diet such as:
"Gluten-Free Friends: An Activity Book for Kids" by Nancy Patin Falini, RD
"Gluten-Free Kids: Raising Happy, Healthy Children with Celiac Disease, and Other Conditions" by Danna Korn
"Mommy, What is Celiac Disease?" by Katie Chalmers
Take your child grocery shopping with you: Letting your child have a say in their gluten-free food choices may take longer while you are in the market, but will avoid bad tempers and problems at mealtime. Get them to select a new fruit or vegetable each week to try, or pick a recipe beforehand and have your child help find the ingredients while in the grocery store with you.
Check out the many kid-friendly prepared gluten-free choices. Some manufacturers that cater to gluten-free kids are: Allergaroo, Enjoy Life Foods,  EnviroKidz, GlutenFreeda,  Glutino, Ian's Natural Foods, Kinnikinnick , Orgran and Pastariso.
Get them involved! Let your child help you in the kitchen while you are preparing meals with small, age-appropriate jobs. Some ideas are reading recipes and measuring or mixing ingredients. Engage your child!
Serve food that is fun for kids: Get creative with your menu options. Some ideas are:
Have the kids top it off! Try having your own gluten-free pizza night! Serve gluten-free pizza and let your children top their own personal pizza with a choice of fresh cut vegetables, lean cuts of meat and cheeses. Another idea is to cook-up some gluten-free burgers or hot dogs and serve them on a toasted gluten-free bun.  Let the kids make their own with fun and non-traditional out-of-the box toppings like salsa, chopped veggies, shredded cheeses and sauces.
Make a meal or snack item in a different shape. Try "Eggs in a Hole" by using a cookie cutter to cut out a small circle in the center of gluten free bread. Butter both sides of the bread, place in heated frying pan, crack an egg into the center, cook on one side and then flip to cook the other side. Or use a cookie cutter to make different shapes in a gluten-free grilled cheese sandwich, French toast or pancakes.
No bread needed. Breadless sandwich are fun to make! Take a large romaine or other lettuce leaf and place a slice of cheese and gluten-free turkey or ham and roll up secured with a toothpick.
Get creative! Try making "Ants on a Log" –   Spread peanut, almond or sunflower butter on a celery stick and decorate with raisins.
Encouraging children to build their own creative meals and snacks gives them ability to explore new food options that you may have thought they never would have tried!
Charm with condiments: So many parents tell me that their kids won't eat vegetables. My solution? Serve them with a side, low-fat gluten-free ranch dressing, yogurt or hummus.  Suddenly broccoli, cauliflower, zucchini, peppers or baby carrots become fun.
Make meal time "family time": Although schedules can be crazy and family-members can be running here and there, try to make as many meals as possible "family time".  This will let your child know that you are all in this together. Things as simple as setting the table for the occasion, turning off the TV set and eating as a family can take the focus off the food, and onto the experience.
Travel the world! Try introducing new tastes and foods with a little international flair.  Have a taco night on Cinco de Mayo and serve gluten-free corn tacos with all the fixin's. Make the dinner even more festive by wearing sombreros from the party store! Cook up some gluten-free Asian influenced foods on Chinese New Year, or traditional Irish foods on Saint Patrick's Day. Food can be educational, fun and delicious!
Rock & Roll: Look for a "ROCK" (Raising our Celiac Kids) group. These celiac support groups are a great resource for parents and children. And they often have special events such as potlucks, parties or meeting at restaurants where your child can be encouraged to try new foods that other children are eating. For a R.O.C.K. Chapter near you check out this list of gluten-free support groups.
And finally, here is a helpful article from dietitians Mary K. Sharrett and Pam Cureton called "Kids with Celiac Disease" that has some other great ideas.
Ask Shelley Case is a feature of BeFreeForMe.com. It is published the second Tuesday of each month. Shelley Case, RD is a Consulting Dietitian, Speaker and Author of Gluten-Free Diet: A Comprehensive Resource Guide. Visit Shelley and get more gluten-free tips & info at: GlutenFreeDiet.ca
Tags: Ask Shelley Case, list of celiac support groups, picky eaters on a gluten-free diet