Friday Favorite: Smooze Fruit Ice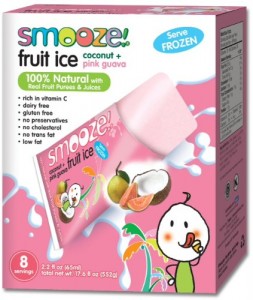 This week's Friday Favorite on BeFreeForMe.com is an icy fruity treat that both kids and adults will love! Smooze Fruit Ice.
The first cool part about this product is that it is sold shelf-stable.  When you get it home you put them in the freezer to freeze. I like this idea, since if you order in bulk off of Amazon.com or just stock up while at the store, you don't use up valuable freezer space, and can replenish the freezer stock as needed.
The second cool part about Smooze is that each serving comes in a little pouch, which makes eating them fun and tidy. After cutting off the top, you just push-up on the packaging and enjoy the icy treat right out of the top.  All three flavors (Coconut & Mango, Coconut & Pineapple and my favorite, the Coconut & Pink Guava) are coconut based, and contain 100% real fruit juices and purees. The coconut milk makes these treats not as icy as a non-nutritious Popsicle – but more of a milky frozen-yogurt type of consistency. Smooze are good for you and delicious!
These all-natural treats are also gluten-free, dairy-free, have no cholesterol or trans-fat and are low in fat and sugar.
Good, fun and healthy icy treats that are perfect for adults or kids are the reasons why this week's Friday Favorite on BeFreeForMe.com goes to Smooze Fruit Ice!
Congratulations Smooze!
Want to buy some Smooze for yourself? Buy them here on Amazon.com. Also, eligible for Super-Saver Shipping! Smooze All Natural Fruit Ice, Coconut & Pink Guava, 17.6 Ounce Boxes (Pack of 4)