WIN-It-Wednesday: GLEE Gum!
NOTE: This contest has ended but the folks over at Glee Gum have offered BeFreeForMe members a Buy One – Get One FREE Coupon for the Glee gum! Click the link to get yours today!
Since the folks over at Glee Gum sent me a fantastic care-package, I have been happily chewing in gleeful bliss!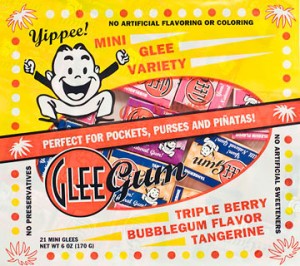 This week's WIN-It-Wednesday is the most fun prize we have had yet! I was so happy (or rather I should say…gleeful) when Glee Gum decided to participate in BeFreeForMe's WIN-It-Wednesday.
Gum is just fun. And being happy knowing you can enjoy it without the worry of allergens and additives is even better.
Glee gum is full of flavor (They come in six varieties: Tangerine, Triple Berry, Peppermint, Cinnamon, Bubblegum and Spearmint) yet it is free of gluten, dairy, soy and nuts. It also has no preservatives, artificial flavors, artificial colors or artificial sweeteners. 
And to m

ake things interesting, Glee Gum is the only gum made the old fashioned way, with chicle, a unique gum base which helps preserve the rainforest, not the synthetic stuff most gums are made with these days. Even the boxes are "green" made from 100% biodegradable, recycled cardboard.
Sometimes it's the littlest things that make you happy. Today a ¼" square piece of Bubblegum flavored Glee Gum put a smile on my face.
How Can You Win?
Reply to this blog and tell us what little thing made you happy today. How easy is that?!
What Will You Win?
We will randomly pick five (5) winners to win the following prize package: One Mini Glee Variety packs (21 delicious Mini Glee Gum packs in kid-friendly Tangerine, Triple Berry and Bubblegum flavors) PLUS 2 Buy-One-Get-One FREE coupons for the Glee Gum of your choice.  Deadline to enter is Sunday, June 14, 2009 at 12 midnight EST
Be Happy. Be Free… and Good Luck!
Tags: Glee Gum, Win-It-Wednesday