WIN-It-Wednesday: Maria & Ricardo's Gluten-Free Tortilla's – 50 WINNERS!
Yes folks… you read it right! This WIN-It-Wednesday on BeFreeForMe is going to have 50 WINNERS! An all time record-breaking amount of prizes and chances to win!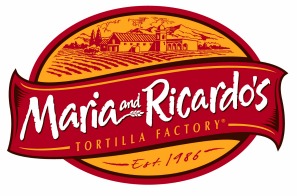 The sponsor of this WIN-It-Wednesday is one of my all-time favorite companies too… Maria & Ricardo's Gluten-Free Tortillas.
If you're craving to make an authentic street vendor style Burrito that is bursting at the seams with grilled chicken, beef, guacamole, beans, rice and chipotle seasoning this gluten-free tortilla is for you!
Being from New England, I grew up on fish & chips from the corner restaurant for a quick and easy meal. I never had a burrito until I visited my older sister in San Francisco while she was attending college.  And this experience was one that I will never forget.
Burritos in San Francisco have a cult-like following. On every street corner in the Mission District, are tiny, family-owned burrito shops, called Taquerias, that make the best burritos in the world. Each burrito made is packed with love and good, fresh food.
These burritos are one of the things I miss the most since going gluten-free.
And since being gluten-free I have learned that you have to take eating Burritos, literally, into your own hands. And this, my fellow burrito loving amigos, is where Maria & Ricardo's gluten-free tortillas come into play!
The Maria & Ricardo gluten-free tortillas are soft, pliable and perfect for making gluten-free burritos, soft tacos, or quesadillas at home. Also Dairy-Free, Vegan, Corn-Free, Kosher, and non-GMO –  these  tortillas are made with sorghum, potato and tapioca flours. These gluten-free rounds-of-joy are great for stuffing, wrapping and rolling – including your favorite sandwich fillings too… turkey, ham, steak & cheese.YUM!
But Maria & Ricardo's wants to discover and learn more about what all of us gluten-free folks are craving when it comes to the world of tortillas and wraps in order to formulate and develop their next round of delicious gluten-free products. (How wonderful that a company actually wants to hear from us – and ask us exactly what we want!)
How can you WIN?
EASY!
To enter this WIN-It-Wednesday series on BeFreeForMe.com and have a chance of winning one of the FIFTY (yes… 50!) FREE PRODUCT COUPONS (mailed directly to your home and redeemable for a package of Maria & Ricardo's Gluten-Free Tortillas) click on the survey link (from Maria and Ricardo's) below and answer a few short questions to let them know your wildest dreams when it comes to Gluten-Free Tortillas. All survey replies must be received by Tuesday, March 6, 2012 at 11:59 PM – EST. Fifty (50) winners will be chosen from all of the entries received.
Remember to take the survey to enter to win and leave lots of comments and feedback too! The More FEEDBACK the better!
And if you fancy… leave a comment below on this blog and let us know the Mexican Food you are love the most… (Me? Quesadillas all the way!)
¡Buena suerte, Buena comida! (Good Luck, Good Food!)… and, as always…
Ser Libre! (Be Free!)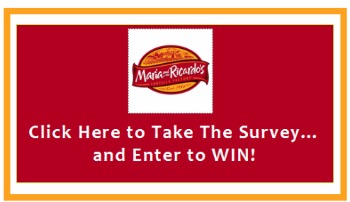 Tags: Maria's & Ricardo's Free Coupon, Maria's & Ricardo's Gluten-Free Tortillas, Win-It-Wednesday