WIN-It-Wednesday: NuGo Free Bars!
As most of you know, I am a "bar junkie" and I can't go anywhere without my bars stashed in my purse,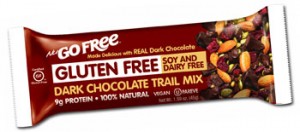 briefcase or glove compartment. Goodness forbid, if I get stuck somewhere and need a quick, easy and nutritious snack.
All of you gluten, soy and dairy free folks… Feel Free To Snack! NuGo Free makes gluten free, soy free and dairy free eating a real treat!
NuGo Free's certified Gluten Free bars are one of my favorites. Full of crisp rice, fiber (5 grams per bar), protein (10 grams per bar) and healthy ingredients, NuGo Free bars are delicious & nourishing.
The three gluten-free flavors are perfect too: Carrot Cake is perfect for a breakfast on the run; Dark Chocolate Trail Mix, is a perfect afternoon snack; and Dark Chocolate Crunch, is as good as any dessert.
BONUS: Each bar is between 150 and 160 calories and only "3 points" for those watching their weight – or for those that don't want to feel bad about eating two in a row!
I also love that NuGO Free bars are 100% natural, vegan OU Pareve plus layered with luscious, REAL dark chocolate (think YUM!) or drizzled with a touch of sweet icing. 
NuGo Free wants to give away a mixed box (12 bars) of their gluten-free bars (4 bars per flavor) to 3 (Yes – three!) LUCKY BeFreeForMe MEMBERS!
How can you win?
Easy!
Let me know what flavor bar sounds the most scrumptious to you and, if you'd like, what makes you feel FREE!
(What makes ME feel free, you ask? My morning jog, a super extensive gluten-free restaurant menu, and my vegetable garden… to name a couple of things!)
Good Luck and, as always…
Be Free!
Kathleen
NOTE: This contest ends Sunday, June 21 at 12:00 midnight EST
Tags: NuGo Free Bars, Win-It-Wednesday