Friday Favorite: Kay's Naturals Protein Puffs
This week's Friday Favorite on BeFreeForMe.com is awarded to little puffs that offer more that you ever thought they could!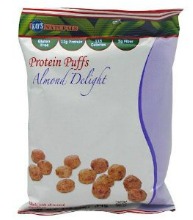 Kay's Naturals Protein Puffs. Tasty little gluten-free puffs that are full of flavor, high in fiber and protein, gluten-free, low glycemic and super low in calories.
I love that Protein Puffs come in a variety of flavors to satisfy those sweet or savory snacking moods you may be in. The Almond Delight is a sweet snack that I enjoy with my mid-afternoon tea, or even as a breakfast-on-the-go. The Tomato Basil and Veggie Pizza are savvy savory snack (say that three times fast!), while the Mac and Cheese is… well… Mac and Cheese – comfort food at it's best, but without all the calories and guilt.
One single serve bag of the Protein Puffs delivers a heaping portion… which is awesome. And, best yet,  although the portion size is satisfying, it's only a measly 110 to 120 calories per bag. (Note: For all of the Weight Watcher point counters…  these snacks are only 2 to 3 points per serving/ bag… Tasty, filling and low points!)
All these wonderful reasons are why Kay's Naturals Protein Puffs are this week's Friday Favorite on BeFreeForMe.com. These snacks really are all they are puffed up to be!
Congratulations!
Want to buy? Check out this link on Amazon.com:
Kay's Naturals Protein Puffs 12 – 12 oz bags (34 g) Al
Tags: Friday Favorite, Gluten-free low point weight watcher snacks, Kay's Naturals Protein Puffs