Friday Favorite: Euforia Gluten-Free Thousand-Layer Cake
This week's Friday Favorite on BeFreeForMe goes to Euforia Confection's Gluten-Free Thousand Layer Cake.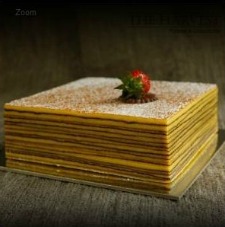 I first tried this soft, spongy, flourless, all-natural cake at a trade show. The samples were enticing and intriguing. These cakes are made with thin delicate layers of cake, which are all individually baked… and I find utterly amazing! The cakes themselves are beautiful to look at – but, as I discovered, even more beautiful to eat. =)
Euforia's Thousand-Layer Cakes come in two flavors: Vanilla – with a familiar and comforting melt-in- your-mouth flavor, or Spice – a sassy blend of spices that creates a ultra-chic spice cake even Grandma would love.
I love that these cakes can be frozen for up to 6-months– which is perfect for those last-minute get-togethers. This cake is also great served as a birthday cake, or eaten "just because".
All these reasons, plus thousands more, are the reasons why Euforia Gluten-Free Thousand layer Cake is this week's Friday Favorite on BeFreeForMe.com. Congratulations!
Want to buy? Check out these links on Amazon.com:
Thousand-Layer Cake (Vanilla / Roll)
Tags: Euforia Gluten-Free Thousand-Layer Cake, Friday Favorites