Friday Favorite: Gluten-Free and Nut-Free Mint Cups (from Sun Cups)
I love Reese Peanut Butter Cups. I love York Peppermint Patties. And merging these two flavors together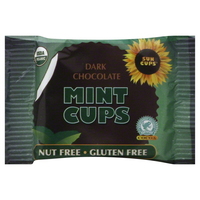 into one awesome, organic, gluten-free and nut-free Sun Cup is pure bliss. Pure high-quality dark chocolate, minty and nut-free perfection.
These rich and creamy Reese-Peanut-Butter-Cup-Like candies are made with Sunflower Butter, instead of Peanut Butter – so they are nut-free (peanut & tree nut) as well as gluten-free too (their facilities are nut and gluten free). They are also organic. Gotta love Sun Cups!
These minty melt in your mouth marvels (say that 5 times fast!) are this week's Friday Favorite on BeFreeForMe.com since they are rich, creamy and free of nuts and gluten. Congratulations Sun Cups!
Where to buy the Mint Sun Cups? Check out the following links:
Sun Cups Dark Chocolate Mint
Sun Cups Milk Chocolate, Caramel Swirl Cups
Tags: Nut-free Reese Cups, Peanut free Reese Cups, Sun Cups gluten-free cups, SUn Cups nut free cups