Win-It-Wednesday: Sahale Crunchers – Gluten-free Snacks!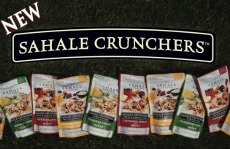 This week's Win-It-Wednesday on BeFreeForMe.com is sponsored by Sahale Crunchers, the newest gluten-free product made by Sahale Snacks – a company that makes some of my favorite gluten-free snacks.
And although the new Crunchers can be eaten as a crunchy snack… they are so very much more. These snacks are versatile. They are perfect by-the-handful, but also as a secret ingredient that can pack a flavorful and crunchy punch to any cup of yogurt, cereal, veggies, pasta and recipes too.
Almonds are one of my go-to snacks when I need a burst of protein to get me through the day, that's why I was excited when I discovered these lightly salted sliced almonds that are combined with awesome spices and fruit combinations.
These snacks kick my love of almonds up a few notches!
Sahale Crunchers come in three (3) amazing flavors: Almonds, with Cherry, Apples + Maple – which is perfect blended with vanilla yogurt or sprinkled over French Toast; Almonds with Cranberries, Sesame Seeds + Honey – a perfect combo that is phenomenal used as a crunchy topping on gluten-free muffins right before baking or sprinkled on my gluten-free oatmeal; and Almonds with Parmesan Cheese & Herbs – can you say 'yum' as a crunching flavorful salad topping?
Sahale products are all made in a gluten-free facility too.
All the flavors and the mouthwatering possibilities that await them are the reasons why I am super excited to announce that Sahale Crunchers are this week's WIN-It-Wednesday on BeFreeForMe.com.
Two lucky winners will each win a prize pack of Sahale Crunchers. The prize pack consists of three bags of Sahale Crunchers (one of each flavor), recipe cards, a recipe stand, a bowl and spoon.
How can you win?
Easy!
Reply to this blog and let us know which of the three flavors of the new Sahale Crunchers sounds the best to you. And if you'd like, also share how you plan on eating them (maybe to add a crunch to your famous gluten-free coffee cake? Toss over the top of your baked green bean casserole? Or maybe even simply eaten by the glorious handful?)
One luck winner will be randomly chosen from the entries received before Tuesday, 08/14/12 at 11:59 PM EST and a second winner will be randomly chosen from all entries received between Wednesday, 08/15/12 – 12:00 AM EST and Tuesday 08/21/12 –  12:00 midnight EST.
Make sure you enter twice to win!
Good luck, enjoy crunch time…
And as always,
Be Free!
Like Sahale on Facebook for more recipe ideas, promotions and fun!
Follow Sahale on Twitter for instant updates and more!
Want to buy Sahale Crunchers now? Check out these links on Amazon.com:
Sahale Snacks Crunchers, Cherries, Apples + Maple, 4-Ounce

Sahale Snacks Crunchers, Cranberries, Sesame Seeds + Honey, 4-Ounce

Sahale Snacks Crunchers, Parmesan Cheese + Herbs, 4-Ounce
Tags: gluten-free nuts, Gluten-free snacks, Sahale Crunchers, Win-It-Wednesday