Friday Favorite: Lundberg Creamy Parmesan Risotto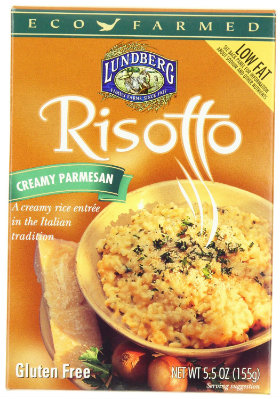 I love making risotto from scratch, but sometimes I just don't have the time. That is why I reach Lundberg's Gluten-Free Creamy Parmesan Risotto.
This risotto can be made in the microwave or on the stovetop and can be done in as little as 20 minutes.
This creamy and flavorful rice dish (which is made with Arborio rice, Parmesan and Cheddar cheeses, onion and garlic) it an Italian specialty that has become one of my family's favorites. Although it can be served as a side-dish, we like it tossed with some fresh grilled chicken strips and served as our main course.
It also comes in other flavors, including some of my favorites – Garlic Primavera, Italian Herb and Butternut Squash.
I also like that that the Lundberg products can be found in most major supermarkets (no running to natural food stores to find it) or on Amazon.com
.
Convenience, being able to make an Italian dish easily at home, and being a family dinnertime favorite are the reasons why this week's Friday Favorite on BeFreeForMe.com goes to Lundberg Gluten-free Risotto!
Congratulazioni!
Buy now on Amazon.com:
Lundberg Creamy Parmesan Risotto, 5.5-Ounce Units (Pack of 12)