Friday Favorite: Jennies Gluten-Free Macaroons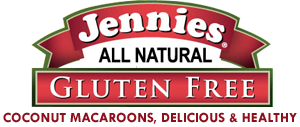 If you're feeling like a nut (a coconut that is) and looking for a soft, chewy and gluten-free macaroon look no further than Jennies Gluten-Free.
These Kosher Parve coconut treats are free of gluten, soy, lactose, sulfites, and trans fats but are full of goodness and sweetness. (Note: Jennies also has a sugar-free product line too!).
These yummy coco-nutty treats that so, so many of us can love and enjoy are the reasons why this week's Friday Favorite is awarded to Jennies Gluten-Free Macaroons. Congratulations!
Tags: Friday Favorites, Gluten-free macaroons, Jennie's Gluten-Free Macaroons