Friday Favorite: Mary's Gone Crackers Sticks & Twigs Pretzels
If you're looking for a crunchy snack that is full of fiber, flavor and fun you're going to love Mary's Gone Crackers Sticks & Twigs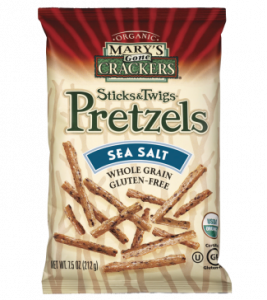 Pretzels.
Made with gluten-free whole grains (whole grain brown rice, quinoa, flax seeds, sesame seeds, amaranth, millet and chia seeds ) these vegan and dairy-free pretzels are proof that those on a gluten-free & dairy-free diet can enjoy a healthy snappy treat that makes snacking fun!
I love the really different flavors of the Sticks and Twigs too: Chipote Tomato; Curry; and Sea Salt. And an  added bonus? These snacks are organic and made with non-GMO products.
Made for those on a gluten-free diet, but loved by all – Mary's Gone Crackers Sticks 'n Twigs are this week's Friday Favorite on BeFreeForMe.com. Congratulations!
Want to buy? Check out this link on Amazon.com and get FREE Super Saver Shipping! Mary Gone Cracker's Sea Salt Sticks 'n Twigs .
Tags: Friday Favorites, Mary's Gone Cracker's Sticks 'n Twigs