Win-It-Wednesday: Enjoy Life's (New!) Decadent Soft Baked Bars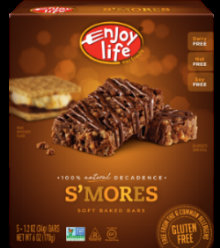 Looking for a bar that's an all-around delicious & decadent treat any time of day? Morning, afternoon or evening? Then look no further than Enjoy Life's new Decadent Soft Baked Bars.
These all-natural bars are gluten-free and also free of the top eight allergens (dairy, peanuts, tree nuts, eggs, soy, wheat, fish & shellfish). 
And the flavors! Oh, the delectable flavors! They are sophisticated, yet yummy enough for anyone, of any age, concerned with allergies. Cinnamon Bun is perfect for a mid-morning coffee break snack, Chocolate Sunbutter or the S'Mores is a great afternoon "pick-me-up" and the Cherry Cobbler is a decadent dessert sneaked into a decadent soft-baked bar. And the best part about these bars… each one is drizzled with a  chocolate coating… to tip the scales of deliciousness  even further!
All of Enjoy Life products are made with all-natural ingredients in a dedicated allergen-free facility. They are also verified by the non-GMO project , which means you can feel good, inside and out, about eating Enjoy Life products.  
All of these yummy reasons are the reasons why I am so excited that Enjoy Life's Decadent Soft Baked Bars are this Win-It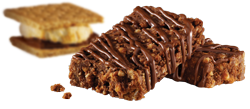 -Wednesday sponsor on BeFreeForMe.com. Two (2) lucky BeFreeForMe members will be the winner of a delicious prize pack of the four flavors of these Decadent Soft Baked Bars. One winner will be randomly selected from all comments / entries received before Tuesday, July 2, 2013 at 11:59 PM (EST), and a second winner will be selected from all comments / entries received between Wednesday, July 3, 2013 at 12:00 AM (EST) and Tuesday, July 9, 2013 at 11:59 PM (EST).
How can you win?
Easy!
Reply to this blog and tell us what Enjoy Life Food's Decadent Bar looks best to you. Good luck, remember some things in life can be decadent AND gluten & allergen-free, and as always…
Be Free!
P.S. Want to be the first to know about Enjoy Life Food's news and offers? Check out their Facebook, Pinterest & Twitter accounts!
Tags: Allergen free bars, Enjoy Life Decadent Bars, gluten-free bars, soft gluten free bars, Win-It-Wednesday