Friday Favorite: Nordic Naturals Vitamin D Gummies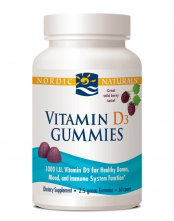 Everyone needs Vitamin D3 for healthy bones, good moods, and immune system functions, but many of us (including me!) have a deficiency when it comes to this much needed vitamin.
I was surprised when my doctor told me I had to start taking a Vitamin D3 each and every day. But after chatting with him I found out that wearing my sunblock religiously, being indoors for most of the day, and these cold, dark drab New England never-ending winters play a huge factor in my Vitamin D3 deficiency.
This is when I discovered Nordic Naturals Vitamin D3 Gummies. These gummies give me 1000 I.U. of the vitamin (the recommended daily amount), along with a great wild berry taste. These vitamins also contain no artificial coloring, flavoring, or preservatives and are pectin based and gelatin free. They are also manufactured in a facility certified to be free of allergens derived from milk, eggs, fish, shellfish, tree nuts, wheat, peanuts and soy. They are also gluten-free (in fact, all of the Nordic Natural vitamins are gluten-free!)
Plus these vitamins are so easy to remember to taste since they taste so good! It's funny how they have actually become my mid-afternoon treat! =)
Nordic Naturals Vitamin D3 Gummies are this week's Friday Favorite on BeFreeForMe.com because they are good tasting, mood boosting, and help keep my bones and immune system strong! Cheers and congratulations Nordic Naturals!
Want to buy Nordic Naturals Vitamin D3 Gummies now? Check out this link on Amazon.com and take advantage of FREE SHIPPING on orders over $35.00!
Tags: Friday Favorites, Gluten free vitamins, gluten-free gummie vitamins, Gluten-free Vitamin D, Nordic Naturals