Friday Favorite: Pamela's Gluten-Free Artisan Flour Blend – Use it Cup-For-Cup!
If you love to bake, but hate the mixing and blending of different gluten-free flours, starches, and gums you need to check out Pamela's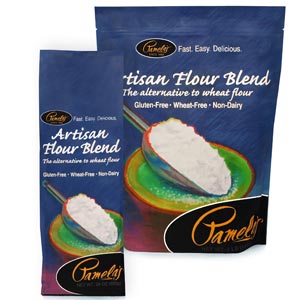 Artisan Flour Blend.
This flour blend is all-purpose flour that you can substitute for "regular" flours cup-for-cup. This means that you can bake that traditional family favorite recipe that you loved before going gluten-free with no worries.
Pamela's Artisan Flour Blend is also not only certified gluten-free, but also dairy-free too.
No mixing, no fussing and the ability to substitute this gluten-free flour mix cup-for-cup is why this week's Friday Favorite is awarded to Pamela's for their fabulous Artisan Flour Blend.
Congratulations!
Want to try Pamela's Artisan Blend Flour? Get it on Amazon.com! It's only $11.37 for a 4-pound bag (as of 5-29-14) and qualifies for FREE Shipping on orders over $35!
Tags: Cup-for-cup gluten-free flours, Friday Favorites, gluten-free substitute for regular flour, Pamela's Artisan Flour Blend