Friday Favorite: Terrapin Ridge Farms Dressings & Marinades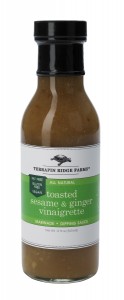 It's summertime, and it seems that every day I have at least one salad as a main course meal. But sometimes vegetables tossed with ho-hum dressing  is just so boring. That's why I was so excited and couldn't wait to try the 
Terrapin Ridge Farms
gluten-free salad dressings & marinades (with awesome flavors!) that I found in my local grocery store today.
The flavors of Terrapin Ridge Dressings are pure joy: Dijon Mustard Vinaigrette; Cilantro Lime Ranch Dressing; Creamy Italian White Balsamic Vinaigrette; Sweet Red Onion White Balsamic Dressing; Tangerine & Soy Gourmet Salad Dressing; and my favorite,  Toasted Sesame & Ginger Vinaigrette.
The dressings I listed are all gluten-free, and many are vegan, fat free and sweetened with agave. They are also perfect for marinades, dips and pasta salad mix-ins. I love that the ingredients are all items you can pronounce and these dressings do not contain any corn syrup. For all of these healthy and flavorful reasons this week's Friday favorite is awarded to Terrapin Ridge Farms! Congratulations!
Tags: Friday Favorites, Low-fat gluten-free salad dressings, Terrapin Ridge Farms