Win-It-Wednesday: STRONG & KIND Bars
If you are a fan of KIND Bars and love big, bold flavors you are going to flip when you hear about these new bars from KIND snacks.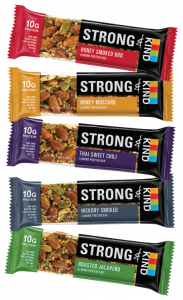 Aptly named, these STRONG & KIND Bars are full of the wholesome goodness you expect for all KIND Snacks, packed along with big, bold, strong flavors.
These are no boring and blah bars. These bars are savory and special. A bar that breaks beyond the boundaries of being average, and takes gluten-free bars to a whole new level of savory goodness!
The five varieties of these bars are: Hickory Smoked, providing a smoky & smooth taste; Thai Sweet Chili, offering a taste that is bold and exciting; Honey Mustard, that has a blend of sweet and spicy that is paired perfectly; Roasted Jalapeno, a hot pepper lovers delight; and Honey Smoked BBQ, that delivers a real BBQ taste.
The STRONG & KIND bars are made from 100% whole ingredients: almonds, pumpkin & hemp seeds, pea crisps and spices, plus they provide 10 grams of protein per bar that comes from the legumes, nuts and seeds.
These bars also contain no whey, soy, gluten, and are also non-GMO.
All these big, bold and healthy reasons are why I am so thrilled that KIND Snacks is this week's Win-It-Wednesday sponsor on BeFreeForMe.com.
A total of two (2) BeFreeForMe members will be selected to win a prize pack of KIND Snacks loaded with 5 bars of each of the five flavors (25 bars total!) of the new STRONG & KIND Bars (Hickory Smoked, Thai Sweet Chili, Honey Mustard, Roasted Jalapeno, and Honey Smoked BBQ).
One winner will be randomly selected from the entries received before Tuesday, September 16, 2014 at 11:59 PM EST, and one more winners will be randomly selected to win from the entries received between Wednesday, September 17 and Tuesday, September 23, 2014 at 11:59 PM. SO – make sure you're a BeFreeForMe member and enter to win two times!
How can you win?
Easy?
Reply to this blog and let us know which new STRONG & KIND bar sounds the best to you.
Good luck, remember to be STRONG… and KIND … and as always,
Be Free!
Tags: gluten-free savory bars, Gluten-free snacks, KIND & STRONG bars, Win-It-Wednesday